Taking Care of Business
State testing for FBLA and DECA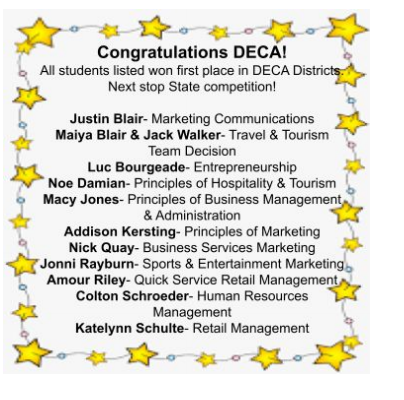 Students in FBLA and DECA have qualified for state. The three qualifiers for FBLA are Mia Jones, Xin Zheng, and Connor Asbell. As for DECA they are Maiya Blair, Justin Blair, Luc Bourgeade,Noe Damian, Macy Jones, Addison Kersting, Nick Quay, Jonni Rayburn, Amour Riley, Colton Schroer, Katelynn Schulte, and Jack Walker.
"I think I was qualified, I know numbers were low this year, but like I was surprised that I even made it to state," Schulte said. She qualified for the category of Retail Management. She prepared for her testing by using certain tools.
"I kinda looked at flashcards and what certain terms were and stuff like that," Schulte said.
Fellow DECA member Luc Bourgeade qualified for Entrepreneurship.
"When I prepared for it I basically studied the test that was for last year," Bourgeade said, "so I had the big test and I just looked at all the questions and studied them and tried to memorize all the answers."
DECA students tested on March 8 and are still awaiting the results. 
FBLA have already tested also. Connor Asbell was surprised he qualified for Supply Chain Management. Asbell took a different route to his studying.
"I mostly just used the internet, like looked up things that related to my topic and went from there," Asbell said.