November 15, 2019
Nik Pugh was in fifth grade when he first got his alopecia. The alopecia was messing with...
November 11, 2019
Freshman Ben Steinhauer was 13 when he ran on American Ninja Warrior Junior.  "It...
November 7, 2019
Flying 4,607 miles across the Atlantic Ocean to start school in a new country can be very...
Students' College Strategies Change
November 7, 2019
On Oct. 8 of this year, the ACT board announced changes for the ACT test.  "I feel like the ACT has been the same forever, so I think change is a...
October 31, 2019
This year, the National Honor Society has decided to do a fundraiser for the not so fortunate. They are trying to raise enough money or collect enough...
October 24, 2019
The staff of SCHSnow.com has decided to compile some of our own childhood costume memories, in celebration of Halloween.
October 18, 2019
The school is full of people who own many different pets, whether it be a dog, a cat, or something extraordinary. Junior Kate Atterberry has a snail...
October 16, 2019
Mario Kart is a notable game that Nintendo released in 1992 and now, for decades to come. The newly released game, which came out on IOS and Android, has...

Loading ...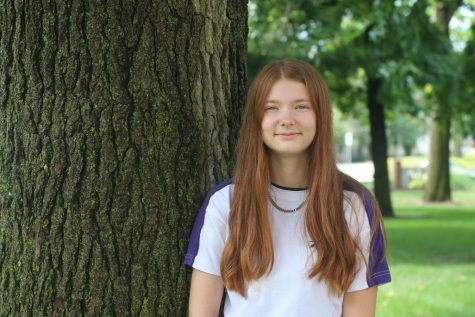 Alex Wilson
Social Media Manager
Alex Wilson is a senior at St. Charles High School and this is her second year in Newspaper. She is in the color guard for the SCHS Band of Pirates and likes to skate on her Penny Board and edit videos. Alex also has three kittens named Milo, Lilly, and Natalie. She enjoys writing and...
Saturday, November 9

SCHS Thomas Doss - 14th Place 16:14

Saturday, November 2

Class 3 District 3 Championship (Boys)

SCHS 3rd Place

Saturday, November 2

Class 3 District 3 Championship

SCHS Jonathan Lopez (State Qualifier) - 14th Place 18:03

Saturday, November 2

Class 3 District 3 Championship

SCHS Thomas Doss (State Qualifier) - 1st Place 16:23

Saturday, November 2

Class 3 District 3 Championship

SCHS Anna Johnston (State Qualifier) - 14th Place 22:06

Saturday, November 2

Class 3 District 3 Championship

SCHS Sally Werth (State Qualifier) - 7th Place 21:10

Saturday, November 2

Class 3 District 3 Championship

SCHS Natalia Sisomophane (State Qualifier) - 6th Place 20:56

Saturday, November 2

Class 3 District 3 Championship (Girls)

SCHS 2nd Place (Team State Qualifier)

Friday, November 1

Varsity Football

SCHS 0 - Rockwood Summit Falcons 54

Monday, October 28

Varsity Soccer

SCHS 4 - Hazelwood West 2

Friday, October 25

Bowling Green XC Invitational Varsity

SCHS Thomas Doss - 1st Place 16:25

Friday, October 25

Bowling Green XC Invitational Varsity

SCHS Sally Werth - 13th Place 20:49