If the innumerable paths that the cross country members have run could speak, they would tell tales of determination and dedication. Especially the path from GACs through Districts and to State, which witnessed an incredible accomplishment of the entire boys cross country team; a success so remarkable that the team was able to move onto the State championships. Beginning his journey to State with his win in the smaller schools category at the Gateway Athletics Conference North, what Nate Maples wanted most was to see the cross country team succeed at State. 
"[I love] the team aspect and how we're such a good family," Maples said. "We won so it's obviously positive, but there's always stuff we can improve on."
"
We are more of a family than a sports team.
— Cross country coach Paul Wright
Sophomore Elijah Case, who made fifth place at the GAC North, also shared Maples' excitement in seeing the team advance towards State. 
"Everybody ran a solid race while we were there," Case said. "Nobody had a terrible race." 
After the wins at the Gateway Athletics Conference, the boys cross country team once again found victory at Districts. This meant that the team could move onto the Class 4A State Cross-Country Championship, which is a first for any St. Charles High cross country team. Maples found himself at third place, Case found himself at eighth place, and four other boys cross country runners gained spots in the 'Top-30', securing a trip to State for the entire team. Keeley Lauer, the senior captain of the girls cross country team, also qualified for State as she made 24th place. 
Traveling far away to Columbia, Missouri, the boys cross country team made their journey worth it by finishing in an astonishing eighth place at the State championship. The average time was 16:37 minutes, the fastest time ever run in SCHS history. Maples finished 18th in the race with a time of 15:56.50 minutes, which made a record for the fastest time run at SCHS. 
Case made a personal record of 16:09 minutes and placed an impressive 31st place. Senior Luke Nottmeyer placed 64th place, senior James Warner placed 91st place, sophomore Noah Case placed 97th, senior Sam Bland placed 110th place and senior Chris Kimsey placed 145th.
Lauer finished as one of the Top 100 Athletes in the State, making a time of 21:21 minutes and beating her lifetime best.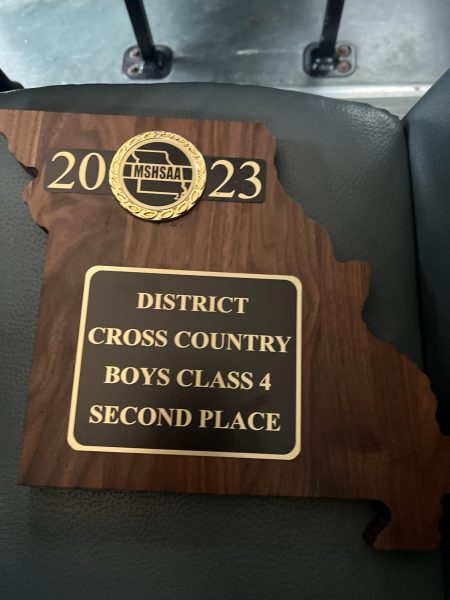 Coach Paul Wright feels an indescribable sense of pride of his cross country runners and their accomplishments this season. 
"I am most proud of who the cross-country runners are. They represent their school with so much class, courage, and integrity, " Wright said, "competing in athletics and winning titles is nice, but it is the man and woman you become beyond high school that the coaching staff cares about the most."
The seniors of the cross country team have created a memorable and record-breaking season, and the lower classes have a lot to look forward to in their talented and promising careers. Beginning at the Gateway Athletics Conference, moving onto the Districts Conference, and finally finishing with an incredible performance at the Class 4A State Cross-Country Championship.
"The athletes always cheer each other on," Wright said, "we are more of a family than a sports team."