The Big Day
Band takes their place at competitions
As the Band of Pirates practiced for many hours a day, everyone was waiting for the day to come. It was Sept.17 when the band won second place at Edwardsville High School competition. Band members were surprised and excited because they beat other quality bands. 
Senior Caleb Mertz is a Drum Major who is in charge of standing in front of everyone and conducting. Mertz has led as the new year began. Personally, Mertz thought that the competition was easy for him.
"It felt good being back after not performing for almost a year and against other bands," Mertz said. 
 Competition gives Mertz a rush of adrenaline to get out onto the field. He believes that the band deserved second place. He said that the music sounded great although they needed to work on a few things, he was very happy with what they put out there.
"It feels really good beating other bands that do well. We have a bright future ahead of us and we can win competitions down the line," Mertz said. 
People may agree that playing an instrument and walking is hard to accomplish. Senior sousaphone player Gavin Goggin has gotten used to it. Goggin said they deserved second place, and they wanted to beat their rivals, West. He also stated that they have been working their butts off to get to where they are now.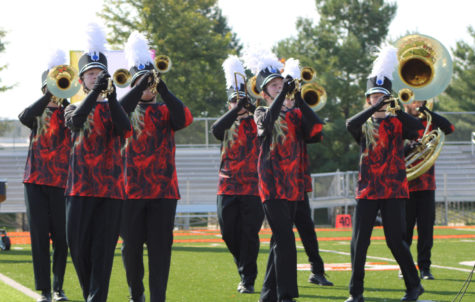 The biggest obstacle that everyone had to face was themselves, everyone thought that they were gonna do horrible. Band thought that another team was either gonna get second or first. It was a band that always placed high and beat everyone in their division. St. Charles High was called for second place and everyone was shocked that they beat Mater Dei High School who always beats everyone.
"It felt like there was something to look forward to in the band," Goggin said. 
Senior Charles Sheils had fun at the competition. He plays a Marching Baritone Horn as his instrument. A baritone is somewhat like a trumpet but much bigger. Sheils thinks that instead of getting second place, he felt his band deserved third. Even though they ended up getting second he was still very proud of how the band handled the stressful situation for it being their first time back out on the field. 
Sheils has been in the band for years, unfortunately, this is his last year with the band that made him feel at home. 
"I kinda performed more on the bad side," Sheils said.
This is not the end of their season, the band is still doing competitions and will be going to many more this season. As they look back on old competitions, everyone knows what they can fix to place even higher.