One Team, One Dream, One Family
Football pirates take the field once more this season with a whole new look
The SCHS Pirates roll into a new season this year with many goals on their mind; changing the culture of the team, grades, and most of all, pride.
"
I am confident that the program will be on the rise."
— Ben Owens
"My focus has been changing the culture of the way the program looks and is run. In past years, what I've heard is that there's been no expectations put on the kids. For me, I have very high expectations," Head Coach Daniel McMullen said.
Grades are a big part of being involved with a sport's program, and not having good grades means players can't participate.
"A big reason why I have been doing this is because when I took this job, we had 25 kids on the roster, and 12 of them were ineligible," McMullen said, "Every day I was emailing all the teachers and we spent hours upon hours upon hours focusing on class, schoolwork, and behavior.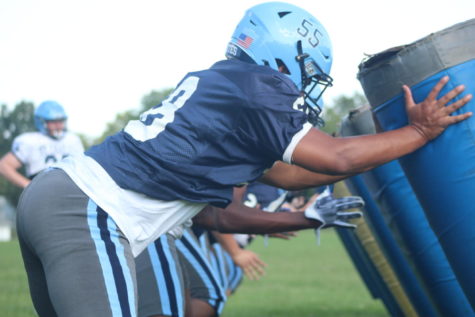 "Last year, there really wasn't a team," Kofi MbRoh said, "It was more individual work and by ourselves, now we are all together like a family."
On the other side of the field, the Activities Director is working hard behind the scenes to make the most out of the football program.
"My main goal for this program is to compete everyday. Whether it be at practice, the weight room, or games," Activities Director Ben Owens said. "I know it won't be easy with a lot of new faces on the team and with the coaching staff, but I am confident that the program will be on the rise."