Christmas Time is Here Again
Christmas Traditions starts up again on Main Street
Christmas Traditions on Main Street has officially begun, and it continues to be a highlight for a lot of families' Christmases. People come from all over to experience the festivities and enjoy the Christmas Spirit that the environment of Main Street brings. 
"My favorite part is watching the guests who come to Christmas Traditions experience the festival. For many of our visitors this event is an important part of their annual holiday celebrations," Festival Director Ryan Cooper said. "We have guests who come from all over the country and around the world, and it is such a pleasure to watch people of all ages and backgrounds having fun getting lost in the little yuletide world that we have created on Main Street."
The Lewis and Clark Fife and Drum Corps is one of the attractions at this event. They march through the streets playing Christmas and period accurate music to enjoy as people walk around. For a lot of the members, this is one of their favorite events, and they look forward to it all year.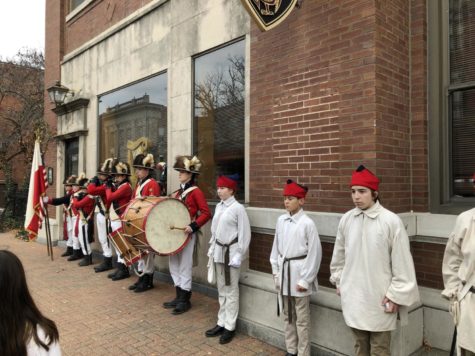 "It's really fun. And enjoyable," Color Guard member Jodiee Heffner said.
While people are meeting each character, they'll give the visitors a trading card. Each character has a card that has a photo of them, their name, and a short backstory on the back. These cards change each year as more characters are added and taken away. There are 35 main cards this year, not including the Fife and Drum corps. There are also cards only available on Wednesday nights for a Christmas Carol story, and also cards available on Friday night for the Krampus Karnival.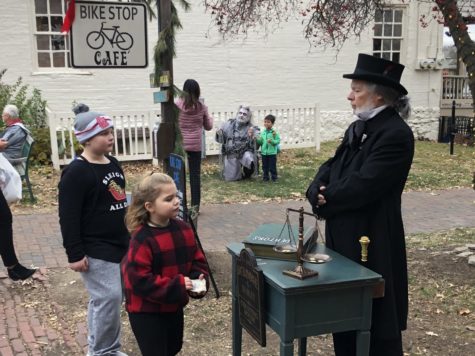 "I think the highlight is going around and collecting all the cards," Color Guard member Keegan Ruebling said.
Opening day was on Nov. 26 and continues to run over the weekend until Christmas Eve, where all the characters send Santa off to begin his work and say goodbye to the people of St. Charles.
"I would say opening day is the most popular, though we have plenty of die hard fans who come out on our closing day to participate in our Santa Send Off and closing ceremony," Cooper said. "I think on opening day, people are ready to get into the Christmas spirit and they can't wait to reconnect with the festival characters that they've been away from for a year."
The characters walking through the streets are from all over the world, including Snegurochka (a character from Russian fairy tales), multiple Santas from several different cultures, and the Sugarplum Fairy from The Nutcracker. 
"[I love] the uniqueness of it all. We specialize in "edutainment" (learning while having fun). We demonstrate not only how the holidays have been celebrated throughout history, but share how they are celebrated around the globe," Cooper said, "Add in the beautiful setting of the historic district decorated with live greenery and lights, and you've got an incredible environment that you can't get anywhere else."