The Spirit Stick, dubbed Clyde Jr. after our beloved mascot, was awarded for the first time at the Homecoming assembly on Oct. 13. The new tradition was brought by StuCo, and was brought as a way to show the school which class has the most school spirit during Homecoming. Clyde Jr. was given to the senior class after they won the most spirit points at the assembly, and was carried on their class float the next morning.
"I feel very happy about winning it because we want to make sure that we have enough school spirit to last us through our last year of high school," senior class president Mark Schaub said.
The Spirit Stick will be awarded to the winning class at homecoming every year, and the StuCo staff is hopeful this tradition will continue for years to come.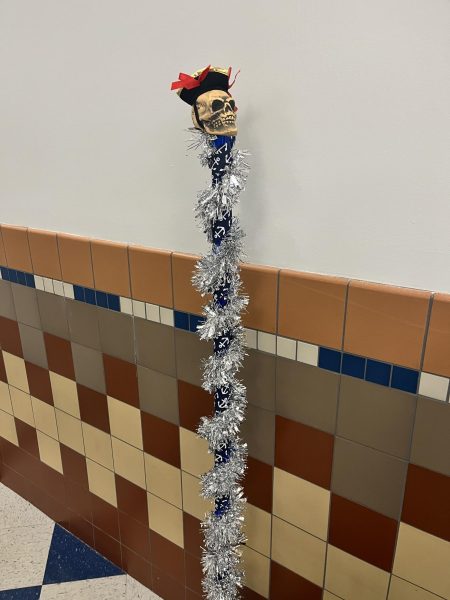 "The goal is that every year we'll put the grade level or the class year on the spirit stick," StuCo sponsor Skye Reichert said. "Typically the Seniors are always going to win because, we know this, but it'll say like class of 2024, so we can have that running and we can see who wins every year. The goal is that it'll go in the trophy case and everyone can see it on display."
The idea is that the Spirit Stick will motivate students to participate in Homecoming activities to win the stick. 
"It's kind of like a little reward, like you're not just putting all the spirit in just for your school, but you're putting in the spirit so you can win the spirit stick," StuCo member Hope Day said. 
"
So that way we can show the others to lift their school spirit and make sure they can take pride in being in St Charles High School.
— Mark Schaub
Because StuCo is not in charge of every spirit week that happens during the year, Clyde Jr. will most likely stay a yearly Homecoming tradition rather than being awarded every spirit week.
"I think it's nice to have a physical representation of not only school spirit, but then that kind of passing of the torch being able to show who is the best and who has worked the hardest to show our spirit and collaboration for the building and being able to just have fun with it," Reichert said.