Artists Galore
The Foundry Art Centre hosts the annual district art show
From April 7 – April 29, art made by students from kindergarten to high school in the St. Charles school district is displayed in the Foundry Art Centre. These students are hand-picked by their teachers to show off the best work that the schools have to offer. There are about 80 frames in the show and each frame holds more than one piece, allowing each school to have several students' work shown off. 
"My favorite part is the fact that we have the Foundry space within our district which is a legitimate art space that we get to use and it's also really fun, especially for the high school teachers to be able to see the kids work from K through high school and I know the elementary school teachers love seeing their students work at the high school level," Art teacher Christine Hilburn said.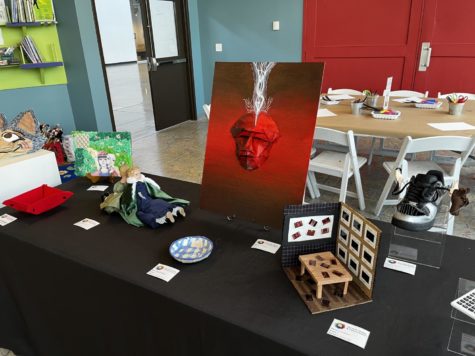 Several students in classes that teach the arts, such as Photography or Drawing and Painting, were chosen to be in the show this year. Isabel Lindquist, a junior in Photography, was one of the students picked. 
"It's pretty cool, I wasn't really expecting any of my pictures to get there, it was just fun to be in Photography," Lindquist said. 
Another student, Emily Wagner, was picked from her Sculpture class.
"I was very happy to be in it again this year, I'm pretty happy with the piece that I chose," Wanger said. "It was pretty cute, my hand tree."
The show won't be up for much longer, so be sure to go look at the artwork as well as the Regional High School Student Show that runs through May 22, and features several students at SCHS and other high schools in the area.