Boys Varsity Soccer Team's Good Start
The boys varsity soccer team are having a good season so far. At the beginning of the season they had a record of 6-2 but now they're at a 10-4!
Their win on Sept. 8 against Orchard Farm, with a score of 2-1, started a 5-game winning streak.
Following that game, they had another win with a score of 1-0 against Fort Zumwalt North.
That weekend, the boys took another dub against Warrenton High school, finishing the game with a score of 8-0.
Against their rivals at St. Charles West, the boys really showed out on the field the night of Sept. 7. A win with a score of 3-0. They then played them again on Oct. 13 and the team decided to double that with the score at 6-0! 
Senior defender Jack Walker felt the team worked very hard to earn their good start. "I felt like the start of the season was amazing and well deserved for the hard work our team puts in. I'm going to miss the feeling of success after each win when I graduate," Walker said.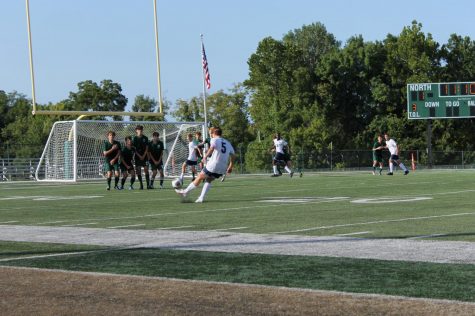 The seniors on the team are sad to be leaving, but say they're definitely never going to forget this season where they were ranked sixth by stltoday. 
"This season, we have eyes on us. We've never gotten ranked by stltoday since I've been here, it's very exciting. I'm gonna miss playing with my best friends and I'll never forget this season," senior goalie Chase Wetzler said. 
With districts coming up soon, senior Ryan Russell is confident the team's going to win.
 "I feel that this year's team is the best St. Charles High has had in a while. We all have great chemistry and have a good chance at winning districts this year," Russell said.
Districts start on Oct. 31 and will be played at Fort Zumwalt East this year.