StuCo's Duck Drive
Student Council hosts a fundraiser to send students to state
Near the beginning of February, Student Council hosted a fundraising event by selling ducks for a dollar each, so that they could support some of our students going to state. This fundraiser went extremely well, all the ducks selling out in a few days, when they were originally planning on selling them from a span of February 1st to the 14th. They raised a total of $200.
" [Stuco state] is kind of like state convention for any other sport or club, hosted in Jefferson City every year. They host us there and it's just a two day event where they have break out sessions and events where they have leadership speaks and different breakout groups and discussion boards, for students to be able to go and meet each other and get ideas for ways to build culture and collaboration in school buildings, build different leadership skills and be able to get ideas on how to make our schools a better place," StuCo Sponsor Skye Reichert said.
The ducks were a simple idea, but it did amazingly well for raising money. They matched up in pairs, with fictional character names on the bottom of them, including well known friends, lovers, or relatives. Matching up the ducks resulted in the students getting a prize.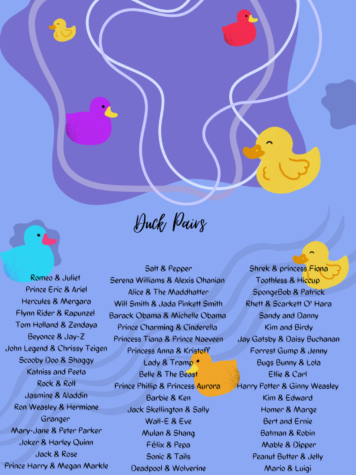 "It was an amazing fundraiser. Everyone loved it, they loved the idea of buying ducks for fun, and to match." StuCo member Scarlett Seeger said "We raised just enough money for everyone going to state, and StuCo will be having more fundraisers in the future! ".
The future fundraisers StuCo plans on doing will help make their name more well-known and help change their role in the community of the school.
"The biggest thing is just kind of as we move forward into building a better and bigger student council getting more students to participate to be the voice of the school and really kind of just changing and building what student council is, getting away from the stigma that we're just event building groups and really becoming the voice of if there's problems in the school, this is who you go to, and this is how we make the school a better place." Reichert said "Having issues like the hat problems or vaping in the bathrooms or just disliking something in general, bringing up those problems to student council, and being a class officer or a class representative is really how you get those things done."