Fall Movies
Students show interest on favorite fall movies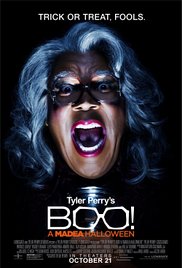 There are a variety of movies that have been released this fall. Movies ranging from comedy, to action, and even horror to set the mood for the holidays. Most students at St. Charles High School wanted to either be thrilled at the movies, or have a good laugh.
With only a slim interest of the action films, a large chunk of students were interested in the horror and suspenseful films. Another large part of the student body were interested in the comedy films.
The movie with the most interest at St. Charles High is Boo! A Madea Halloween. The Girl on the Train and Ouija: Origin of Evil were tied in second place.
Fall is arguably one of the best times to go to the movies, because a lot of people like to do spend their time indoors when the weather's getting cooler. Fall movies always seem to have interesting topics, and no matter the genre, they always seem to leave you satisfied.