Pride of the Pirates
This school year, faculty decided to mix up the start of school with new tradition: Pirate PRIDE Games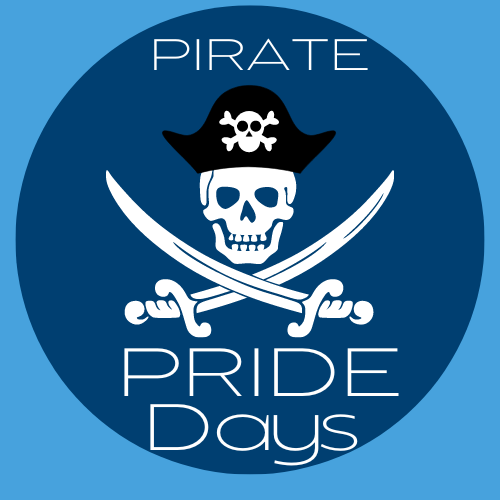 Staff decided to try something new to start off another great school year. During our first two days of school, students played games for a chance to win raffle tickets. The raffle tickets were drawn at the end of the week, and the students who had their name drawn won prizes. The more times a student won a game, the more tickets they'd receive, and the bigger their chances of winning would be. A lot of students seemed to enjoy participating in those activities and they're hoping that this will be repeated next year as well for future classes. 
Pirate PRIDE (which stands for Perseverance, Respect, Integrity, Drive, and Equity)
was a fun way to get students to open up and engage with each other and their teachers. Students have great things to say about Pirate PRIDE.
"I think that the Pirate PRIDE was a good way to start the year with activities and a good way to interact with peers," junior Elizabeth Rehkemper said. 
"I thought it was fun! It was a fun first two days of school that welcomed everyone back," senior Bella Cruzado said. 
Cruzado and Rehkemper both agreed that Pirate PRIDE activities were a great way for students to start getting used to the school's environment. 
Social Studies teacher Tammy Orrick, one of the Pirate PRIDE sponsors, explained that the idea was originally brought up by Assistant Principal Dr. Patricia Closson. 
"Dr. Closson, our new AP shared a similar idea with our Shared Leadership Team that she had experienced at her previous high school.  She helped us connect with those resources, so that we could learn more and develop something for our building," Orrick said. "We felt like this was the perfect opportunity for a reboot to our school culture.  We developed the Pirate Pride Day out of this idea." 
Orrick and Dr. Closson hope that Pirate PRIDE can return next school year.