2022 Graduation Speaker Is Decided
The Senior speaker for this year has been decided, Max Locke will give a somber speech that hits hard at just what being a senior graduating is like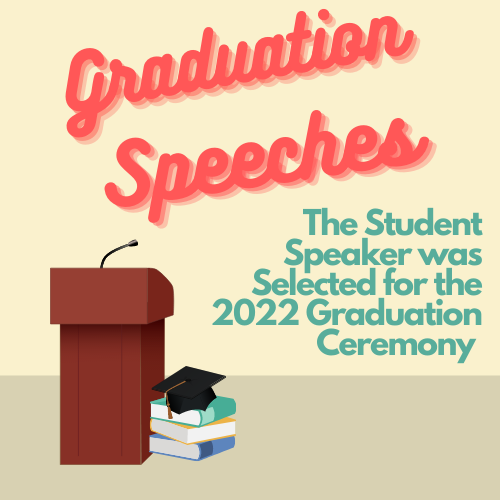 On Wednesday, April 27 auditions were held to decide who the speaker and musical act will be for the 2022 graduation ceremony here at SCHS. After some deliberation from the panel of staff, the decision was made. The panel decided that Macy Hill will be singing for the musical act, and Max Locke will be the speaker.
"I have to represent the whole class," Max Locke said, "and my mom told the entire extended family to watch and it's just ooh, this is gonna be a lot of people watching me."
The speech is not the only major piece of this year's graduation, and it all takes a lot of time and effort. Recognition is due to graduation co-ordinator Nick Saubers as well as all those who help with planning graduation. There is a lot of work that goes into organizing this massive event as something to remember for our seniors.
"It really varies from year to year. But traditionally, it's kind of a hurry up and wait game. So you get all the paperwork, you get the things and you kind of wait for the orders, you get all the orders and you wait for grades, and so and then really the week of graduation," Saubers said. "So from the time that final grades are due, we have exactly five days to put the entire event together for an audience of about 2000 people. It's a lot. But I'm happy to do it."
Of course, speaking is an immense responsibility, so too is being one of our staff who were on the panel. This panel was made up of three teachers, Courtney Gibson, Tori Ramsey, Skye Reichert, and Jane Mulitsch. They had a tough job, having to decide which of the four students who auditioned would best deliver a speech that speaks to all seniors at our high school.
"It was a really cool experience," panel member and English teacher Skye Reichert said. "All of the speakers had something different to say and they were all able to pull on their past experiences … everybody had their own different flair to their speech and something different to offer."
It's the job of the speaker to relate to the senior class, and create a speech that encompases the feeling of this year for a majority of students. This is not an easy job, because St. Charles High has a very diverse student base of many backgrounds. Despite how hard it may be, the panel and Locke are confident that he can give a speech that is down to earth, and relates to the experience of all of the seniors.
"It's kinda somber, because it's about the end of the whole career, all four years- all 13 years in the whole district. When talking with my friends about the weird feeling [of graduating] a lot of them have been like 'yeah I understand, but it's hard to put into words' so I'm gonna try to put that weird feeling into words, so I think it will resonate with most students," Locke said.
Speaking in front of the entire graduating class and many parents, staff, and other observers while representing the entire school is a major responsibility. It's obvious the amount of stress this can cause, but Locke says he's kept it in the back of his mind.
"I thought at first that we still did a valedictorian speech which I thought I might get, so I was kinda thinking about it throughout the year," Locke said. "So I was thinking, 'oh no I have to actually audition and write it down.'"