Cross Country at State
This year our SCHS cross country team went to state and had to work tirelessly to place well in the competition
Five cross country runners from SCHS participated in the cross country State competition: Sally Werth, Emma Gilkison, Charlotte Anderson, Nate Maples and Luke Nottmeyer. They faced a very tough challenge but held their own and performed well as they came up against some of the best runners in the state.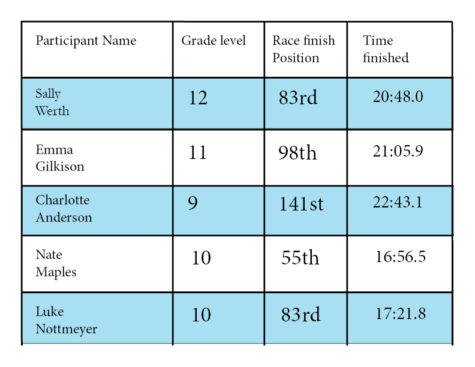 Though many people don't understand the complexities behind long distance running, it's one of the toughest sports in the world. Cross country and other long distance running takes just as much mental skill as it takes physical training and skill.
Nate Maples, a sophomore and Cross Country athlete who participated in the state competition said, "I just try to keep calm, because it's a big race and you can get really nervous, I … think that the best way to do that is just kind of zone out. Let the adrenaline go. It's a lot of mental training to do well and keep going."
Through practice and workouts, the cross country team got better and better. They have to work all year round to keep in shape. Throughout the winter months for track, during the off season, and even during the summer to be able to compete at the same level the next year.
"Usually on Mondays and Wednesdays we have workouts, but mostly we will go out and do a 4 to 5 mile run which sounds like a lot, but when you get used to it, it's not as hard as you think," Maples said.
Of course cross country competitors have to set personal goals, whether that be placing a certain position in the competition or simply setting a new personal record. Often enough runners will stick to setting a personal best time, (also known as a PR or PB) as it allows them to focus more on the race and less on the other runners they are facing. 
"I wanted to go under 17 [minutes] this year, for my PR, that was kind of my big goal, and I was able to do that," Maples said.
In the end the strong competition from schools like Festus and West Plains went on to have their students take top places, but the SCHS cross country team were still able to come home with their heads held high. The team put in a tremendous effort throughout the year and during the competition, and will continue under the guidance of head Cross Country coach and head Track coach Justin Heinen.
"It's fair [results], it was tough because there are a lot of good runners there who are D1 talent, so we were running up against people who have a chance to win at nationals and NCAA in a couple years," Heinen said.