End of Year Broadway Show
Choir members sing and dance in last show of the year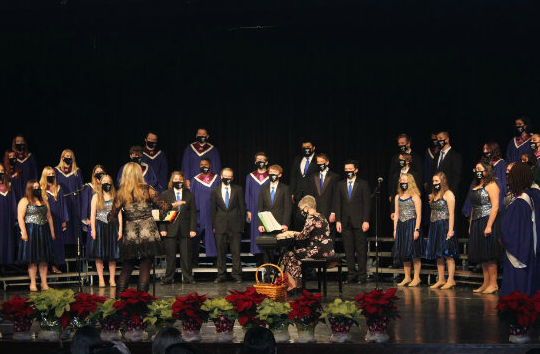 On May 8 choir performed their Broadway Night at 5 p.m. in the auditorium. Usually Broadway Night is in the fall, specifically in October. This year was a little different than last year since the date changed, but the songs had also changed. Usually choir would be having their spring concert around this time.
"It is very different because usually it's in the fall. It's our first show and usually we would be performing much different songs," senior Sophie Birch said. "Right now we would be having our spring concert."
Those who are also in Madrigal Choir will be performing on the stage twice.
"We'll have back to back concerts especially since I'm in Madrigal and Madrigal does their own concert, plus the Broadway concert, so having these two shows back to back is a little strange," senior Ethan Bayliss said.
For the seniors in choir this is their last Broadway Night ever and some said they will miss it. 
"It's kind of sad. I'm gonna miss it," senior Nadia Miller said.
Others are relieved and some are happy, but also sad that they can't do this again.
"Relieving, to finally be done because… the Broadway show's always been the most demanding, and having that out of the way will definitely be a nice relief," Bayliss said.