Spring Play Switch
Blithe Spirit to Emperor's New Clothes
'The Emperor's New Clothes' is the school's new spring play which will be running Friday, May 14 and Saturday, May 15.  Before 'The Emperor's New Clothes' the spring play was going to be 'Blithe Spirit' but because of all the AMI days they decided to do a different play instead since 'Blithe Spirit' would be too hard to complete in only a few weeks.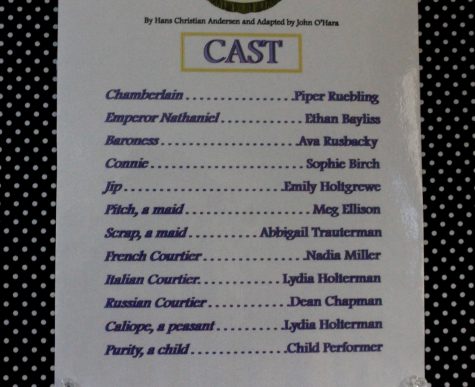 "Because we had missed so many days of rehearsal we were gonna have to pull off a three act play in three weeks," said cast member Sophie Birch, "but also the set was gonna be a problem because if we tried to push it back then there was no way we could have the set on stage because of other things going on in the auditorium, but with this new set we can take it apart in pieces and wheel it to the backstage."
Not only will the set be easy to use, it will be very creative.
"It's a fantasy so everything is built from scratch, it's not stuff that exists normally. The costumes are very fantastical, the set is a fictitious land, you kind of get to decide what it looks like,"
 said Theatre Director Nick Saubers.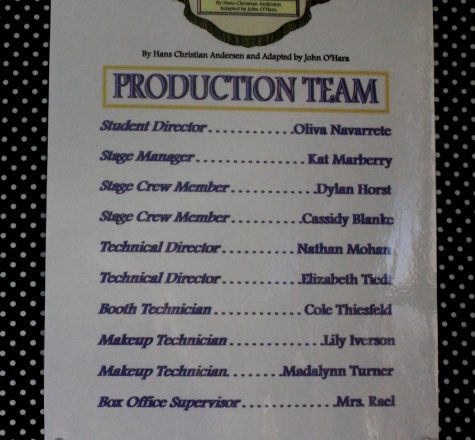 Another interesting aspect of the play is that there are kids of all ages.
"We're also using an actual child performer that's an actual actor, so kind of melding high school and kids and that kind of stuff technically can be challenging," Saubers said.
This hour long, one act play will appeal to people of all ages.
"It's kind of like a Disney movie. There's stuff in it for adults, stuff in it for kids so I think it's for everybody," Saubers said.