What's Happening With Finals?
Information and schedule for first semester's upcoming finals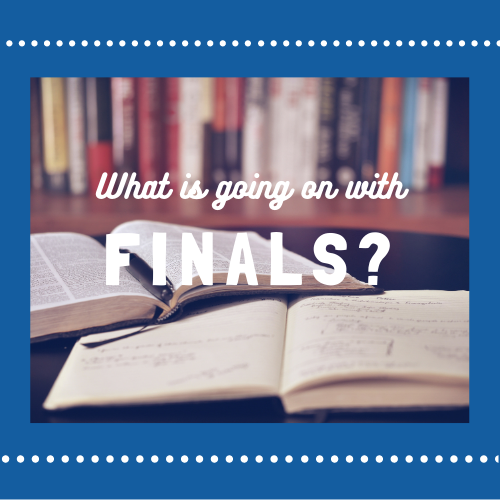 With the first semester coming to a close and finals right around the corner it is important to start getting prepared for what's to come after winter break. With a school year so different from past years, a few things have been excluded or changed from our usual way of running finals, specifically exemptions. 
 "One thing the guidelines were based upon last year was attendance and this year with COVID-19 we know we can't do attendance as part of your exemption because it would be unfair," principal Jeff Walker said. "We will take the attendance piece out, which then means its based upon grades, on discipline and on teacher participation." 
As Walker mentioned, exemption guidelines have changed specifically for this year's situation and it has been decided that exemptions are going to be allowed, but it's up to each teacher and there will be no exemption sheet or paper to sign. Instead of the usual form, teachers will be submitting a list of students who are exempt from finals, if they so choose to allow them. They have to have these lists sent in by the Jan. 6 which is something students who are planning on exempting need to be aware of and make sure their grades are where they need them to be as soon as possible. 
 Attendance, while not a requirement to be exempt, has a few changes. Students will still be able to leave if they are exempt from their final, but this year they need to have a permission slip signed by a parent or guardian. This form will be available to pick up on the Jan. 5 upon returning from break, but these must be turned back in by Jan. 7. This is a very small gap of time and if anyone is planning on leaving during exempted finals it is a good idea to be setting a reminder to get that done as soon as they are available.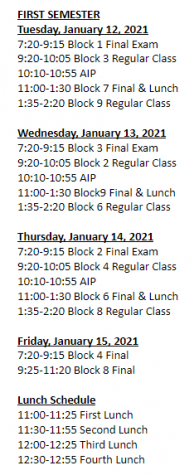 While some of the altered guidelines are new for all students, this is the freshmen class's first set of high school finals along with this being only the second set for sophomores, due to going virtual in regards to the pandemic last spring. It can be intimidating and hard to know where to start preparing especially having winter break before the semesters fully over. 
"My big piece of advice for freshmen, get organized, understand what each class expects you to do for their final," Walker said. "Comprehensive final means you need to look at everything from the beginning of the year to the last day versus is it just an individual unit test or make up test."
Some might still be confused why finals aren't before break or even why the first semester will still be going on when students come back. 
"The reason why we have them after break this year is because we started school later and that is a new state law and the reason we had to move them back to that second week into January is because we would have such uneven first and second semester number of days of school," Walker said, "and with semester courses you can't do that so we have to balance the days on each side."
It's sure to be a challenge for everyone this school year to take finals in January and after a break, but with the schedule the same as previous years and getting a day off for Martin Luther King Jr. day before returning back for second semester, everything should hopefully move smoothly according to plan. 
"Yes, this is going to be different for everybody… I've been here for 11 years now and this is the first time in 11 years we have finals after winter break so this will be new for everybody and we will see how it goes," Walker said.