Poultry and Pantry
A food drive against St. Charles West has families gobbling up food they need the most, all thanks to StuCo.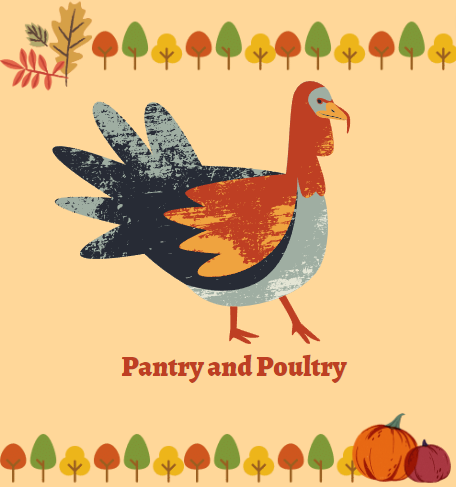 During Thanksgiving, it is often a tradition to show gratitude for all the things in your life that you are grateful for, such as family, friends, SCHS.now (the best school newspaper out there), etc. However, this Thanksgiving, families and people in need are giving thanks to the students, staff and StuCo at St. Charles High. Thanks to the efforts of StuCo, a food drive at SCHS against St. Charles West has given a Thanksgiving dinner and more to St. Charles residents in need. 
"We did the same food drive last year against West; we're trying to make it a tradition for student council," StuCo Sponsor Skye Reichert said. "It was West's idea to do the food drive so we just followed suit."
Last year, the food drive at SCHS was successful. 
"The previous year before we had a good food drive and beat West, so we just wanted to redo it and beat them again," StuCo Junior President Scarlett Seeger said. 
Since the food drive has begun, members of StuCo have worked hard to advertise the food drive and collect the food. Seniors and juniors were instructed to donate their food in the office and sophomores and freshmen were instructed to donate their food in the library. Sometimes, however, they ran into difficulties. 
"Promoting, like having people actually participate and give food, like we can always get it to work out but in the beginning it's always harder because I don't think that people realize until the last minute that 'oh, that was today?," StuCo Sophomore President Diane Wright said.
Despite the rough beginning, the hard work of StuCo always pays off in the end.
"I love being able to step up and help the community, I think that a lot of people in St. Charles don't understand that there is a need for community support," Reichert said, "so really being able to pull that into the school and really be able to help the community."
"
"I love being able to step up and help the community…""
— StuCo Sponsor Skye Reichert
Along with building a strong sense of community, the food drive also helps students get into the Thanksgiving spirit.
"Knowing that we're going to help people in the long run, and I love knowing that it's the season of giving and, honestly in my opinion it is, because you're giving people things that people are in need of," Seeger said.
You too can get into the Thanksgiving spirit by donating food. Even though the drive ended on Nov. 28, you can donate food to local pantries and Salvation Army, where the food from the drive is going to be eventually donated. All kinds of nonperishable food is appreciated, but some types of food are especially helpful.
"In general, I know that peanut butter is a biggie, because you can do so much with it, and it can go so far," StuCo Sponsor Melissa Kohr said.
Next year, StuCo plans to continue the food drive and are already coming up with ways to improve.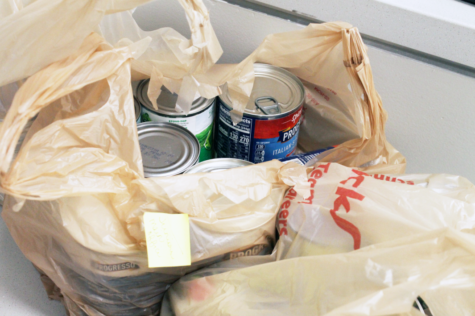 "Have a spot for teachers, well we figured out a spot for teachers later, something we would do differently would be to get it…(spot for teachers) out there earlier," Kohr said.
Although SCHS did not win against West, the food drive was a success. This Thanksgiving, families were able to enjoy their meals a little more knowing that they wouldn't have to worry about the rising prices of food. The season of giving is not over however, so donate to Salvation Army or local food pantries in order to continue the true Thanksgiving spirit.