We Want Blood
On Monday, Oct. 17, Student Council members ran a blood drive, running during most of the school day. At this drive, 21 people(17 students, four teachers) successfully donated blood, all for different reasons.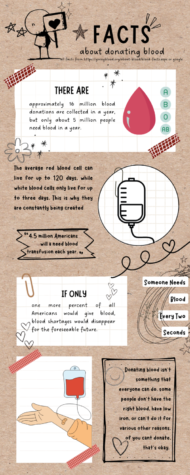 "My mother has always been one to give back whenever she could. My brother donated blood last year and it's been something that's interested me for a while, so when the opportunity came, I took it," Junior Axel Underwood said. 
Wanting to give back is one common thread amongst the people who donated blood, a lot of the people wanting to help out in any way they could try to. Although it went smoothly for most, for some, there were issues like low iron amongst other things. Layla Pfaff is one that was affected by her low iron, unable to donate because of it. 
"I was pretty disappointed and I didn't know that that was a factor in it, but I was pretty upset that I couldn't help or contribute at all, but if they have another blood drive at the end of the year I definitely want to try and do that one," Pfaff said.
Although many people wanted to give blood, and did give it, there were still a lot of people that had no interest in donating blood, whether it be because of their age, not knowing exactly how to do it, or just not wanting to overall. 
"We have an issue trying to get people to donate blood because there is so much misinformation about it," StuCo member Scarlett Seeger said, "[but] the nurses are so kind and caring for the patients. Getting the blood drawn isn't painful at all."
Would You Donate Blood?
Sorry, there was an error loading this poll.