Breaking Records with Rackets
This year the girls tennis team set several school records and broke a few old ones
As the tennis season comes to an end, the Pirates girls tennis team has gone above and beyond any expectations as to what this season would look like.
With the overall record for the team being 13-3 beating last year's record of 9-2, they won their last game on Sept. 23, with an 8-1 win against North Point High School. 
Jonathan Flaxbart has been the coach of the girls tennis and boys tennis since 2015. 
"I am not a yeller so I go out and tell the girls what they need to do in order to get better or be successful and if they listen to me, great. If not, then we won't have a good season," Flaxbart said when asked about his coaching style. 
His coaching style seems to be paying off as the girls made it all the way to quarterfinals for state on Oct. 10.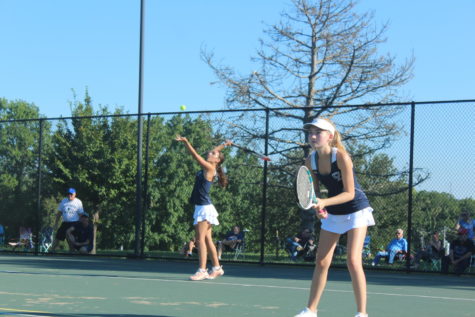 When reflecting on his coaching techniques Flaxbart said he wants to focus more on conditioning and watching professional tennis matches to get inspiration and better techniques mastered. However, with the season coming to the end, some of the other girls on the team are worried about next year's season. Junior Isabel Lindquist is one of these girls. Lindquist believes the team will be much smaller. 
"Hopefully we can recruit a lot of new people," Lindquist said. 
Flaxbart's thoughts on next year's season were right in line with that thought process as well. 
"I'm hoping there is a season…we lost 11 of our 15 and so it will be a rebuilding year where we probably won't win a whole lot of matches, but can start working on our skills/game for another great season in 2-3 years time." 
With 11 seniors leaving the team this year, the girls have been reflecting on some of the advice given to them. For senior Alyssa Birkenmeier, also the team captain, she dished out some good advice and took some in. 
"People always underestimate the power of breathing. Tennis is a sport that focuses highly on mental strength and your mindset," Birkenmeier said when asked about advice for tennis. 
Birkenmeier's positive and strong mindset that she had this year was something she was most proud of this year. 
"I'm quite sad that this is my senior year and I really wish we, as a team, all had one more year together. The tennis team is very much like a family and it's hard to have to leave them after four years," Birkenmeier said.