Hadestown: Review
From Oct. 11-23, Hadestown, the Tony Award-winning musical, performed at the Fabulous Fox Theater in St. Louis. The musical combines the myth of Orpheus and Eurydice with the myth of Hades and Persephone and shows the ideas of nature against industry, faith against doubt, as well as love against fear. 
The show opens as Hermes (Nathan Lee Graham), the messenger of the gods, sings a song introducing the gods and humans in the story. He starts with the Fates (Dominique Kempf, Belén Moyano, and Nyla Watson), then Persephone (Maria-Christina Oliveras), and continues with Hades (Matthew Patrick Quinn). He then introduces Orpheus (Chibueze Ihuoma) and Eurydice (Hannah Whitley), as well as the five members of the chorus (Jordan Bollwerk, Lindsey Hailes, Courtney Lauster, Eddie Noel Rodríguez, and Jamari Johnson Williams). The songs continue, showing the progression of time with Persephone coming from and returning to the underworld. In the first half, the audience sees how rocky Hades and Persephone's relationship has become and how it is affecting the Earth and the seasons. Orpheus is determined to change this, and begins writing a song to bring back spring with Eurydice at his side.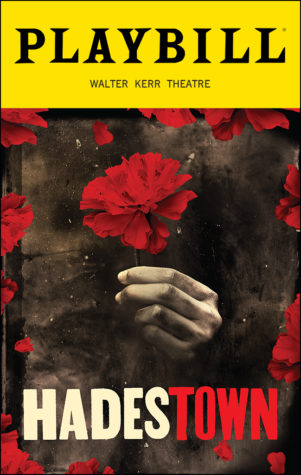 The musical is pretty much entirely singing, but every single song has its own style and sound. The songs combine a style of jazz and gospel music, as well as a little folk music and some swing. The show was written and composed by AnaÏs Mitchell in 2006, and directed by Rachel Chavkin. It was performed on Broadway in 2016, and, as stated, won a Tony Award for Best Musical in 2019. 
The show is filled with dancing, upbeat music, love stories, and tragedies all combined in two and a half hours of entertainment. Along with the actors having a part in the story, the set and lights play a huge role in creating the scenery of the underworld. The underworld is described in the show as 'The Electric City,' and the lighting truly portrays it beautifully. There are multiple instances of flashing lights and smoke, combined with dim lighting to show darkness and fear in the characters. The floor of the stage can rotate to show movement, and it all comes together to create a very in-depth show.
Overall, this show is a must see, and I enjoyed every second of it. It is definitely my favorite musical. 10/10, would go see again.