SCHS Summer Bucket List
What will SCHS students do when school's out for two months? What places will they go? Ask no more, this is the SCHS Summer Bucket List!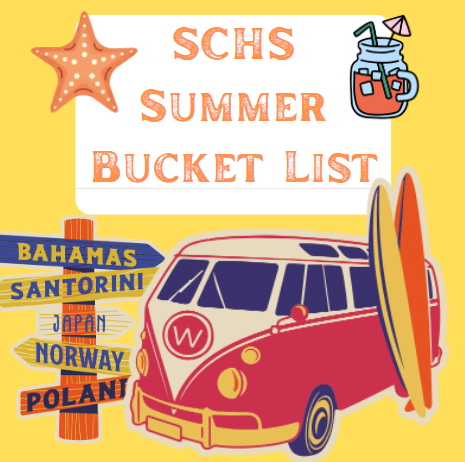 With the school year coming to a close, many St. Charles High School students have begun planning and wondering about their summer plans. What do you do with two months of warm, refreshing free time, not interrupted by the meticulous activities of school?
Some students prefer to take advantage of the empty summer schedule.
"I plan on sleeping and staying at home," freshman Talan Mathus said.
Other students plan on filling their empty summer schedule and keeping themselves busy.
"I plan on going on vacation to Santa Rosa beach in Florida. I also want to prepare for my driving test. I'll also be working," sophomore Scarlett Seeger said.
Some students plan on going with the flow and don't know exactly what they're doing this summer.
"I don't know, whatever just comes up I guess," senior Tyler Kies said.
Even if students are unsure of what they'll do this summer, they still have places that they'd like to go and things they'd like to do.
"In Florida, I'd like to go to the beach and maybe an arcade. In Missouri, I'd like to go somewhere with a lake. I love the ocean and swimming," Seeger said.
It seems that quite a few students want to go East.
"If I could go anywhere, I'd go to North Carolina. I also want to hang out with my friends this summer," Kies said.
And some students would just prefer to stick in one place.
"I'd like to just stay home," Mathus said.
Whether you plan on going on vacation, being at home and catching up on some Z's, or you just want to go with whatever the summer throws at you, enjoy your summer to its full extent. Two months of warm weather, hot concrete, blue skies and green trees is enough to call for a celebration.