Prom Preparations
Elizabeth Laley and the Prom committee prepare for Prom on April 23
Prom this year was on April 23, and the juniors and seniors were anxious to spend their Saturday night at the Foundry Art Center. The Prom committee has been working hard for a few weeks to give St. Charles High School an amazing time at the dance.
"The theme is Enchanted Garden, I didn't choose it, the students on our little Prom committee picked it. They had like three or four different themes to choose from and that's the one they liked best," Prom Sponsor Elizabeth Laley said.
One of the students that have been working on the setup of Prom is junior Marissa Sipe. 
"My favorite part is honestly just making my vision happen, so my ideas come to life and we can make it actually look good," Sipe said.
The nominees for Prom court this year are Cassidy Blanke, Mallory Chrum, Paige Mauldin, Tre Bure, Isaiah Jones, and Sam Rogers. Prom king, Isaiah Jones, and queen, Paige Mauldin, were crowned that night. Laley is happy with the choices, and loves working with the kids to help organize.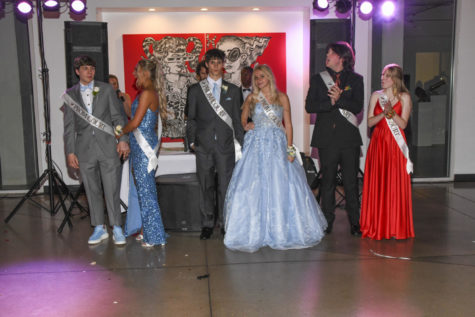 "As far as actually working with the kids, I think them creating the centerpieces and the decorations because they come up with way better ideas than I would come up with like, 'oh that looks really nice, its not what I was picturing in my head but you nailed it!'" Laley said.
As stated, the theme of Prom is Enchanted Forest, and the student Prom committee is happy with their decision. This theme was on the roster because it was the planned theme from the year of Covid. They brought it back, and decided out of the few choices that is the one they liked the best. 
"We picked it cause we liked how it looked, and we had a vision and we could see it being the theme, you know cause we already had the place picked out so we just picked that one," Sipe said.
Overall, Prom has all come together, and the committee is sure the students that come had a great time.
"It's going very slowly, but I'm sure once the day comes it's gonna all come together and be great," Sipe said.