HOSA doing the MOST-A
A new club called HOSA is being formed which focuses on biomedical science and the experiences of biomedical professionals in the field, but what exactly does the club do?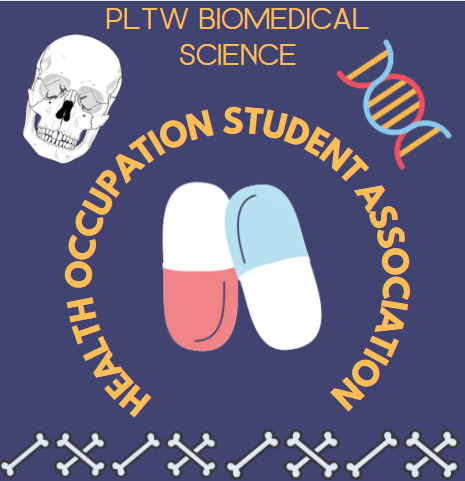 Project Lead the Way: Principles of Biomedical Science and Project Lead the Way: Human Body Systems are two year-long courses that are available to students. Both of these courses focus on 'biomedical' science, or rather medical science and how it is used in health occupations. These courses also teach skills that would help in forensic science, healthcare and biology related careers. But, how do these skills apply to these occupations in the real world? This is a question that James Scott, the PLTW teacher is trying to answer by the creation (or, rather revival) of a club centered around students' futures in biomedical and health related occupations. The club will be officially called HOSA (Health Occupation Student Association) move here, and Scott is planning to have them currently meet in AIPs on Fridays. But, where was this club before?
"Like a lot of things, COVID really hit us hard, and I also had people graduate early, I had people transfer, like executive officers of HOSA, and after all that happened, COVID came and we went virtual. The interest wasn't really there and we didn't need another thing at the time. We were trying to juggle in person and virtual learning at the same time," Scott said. "Now that we, or me personally, have managed to get through all that and there's people showing interest in it again, we're trying to get that back off the ground." 
Like a lot of clubs, COVID-19 made HOSA's meetings exponentially more difficult. Now that HOSA is being planned to return, they want to bring in outside professionals.
"We are hoping to get a guest speaker series going, we are trying to get medical professionals from a variety of different fields to discuss, maybe what they do from day to day and the educational requirements to enter into that profession," Scott said. 
Both Scott and students feel that a club based around the class would help improve their understanding of both concepts in the class, and would help them visualize a future within the biomedical field. 
"I would believe that it would be beneficial by adding extra experiences. I think that doing labs in the club along with having speakers in the biomedical field who come in could help push the class along and it would help you understand more why you're learning things in class." sophomore Sascha O'Neal said, a student in the Project Lead the Way: Human Body Systems class. 
What Scott and other students feel that the club would help with the most would be the ability to directly interact with and learn from medical and biomedical professionals in the fields. 
"
You get to listen to real life experiences and it gives you a different kind of insight into what truly goes on in the healthcare field"
— Kileigh Ingram
"You get to listen to real life experiences and it gives you a different kind of insight into what truly goes on in the healthcare field," said senior Kileigh Ingram, a student in the Project Lead the Way: Human Body Systems class. 
So, the club is basically expanding on the learning of the PLTW class, and is planning to have medical professionals come in and speak to students, but students are planning to experience and learn other things in the club as well. 
"It gives more personal experience and you and the person can form relationships and you can ask them more direct questions, rather than just learning more generally and broad, you get answers more personalized to you," O'Neal said. 
Along with the club learning directly from biomedical professionals and hearing them speak about their experiences, HOSA in the past also competed in competitions. If they still plan on competing, they will need finances to pay the traveling fees, and they will also need finances for other activities.
"We definitely need money if we want to participate, technically next year if we want to continue this, they have to become an active member of HOSA which costs $25, they're going to have to either incur that money from their own pocket or we're going to have to raise money so yeah we definitely need some money for that," Scott said.
In conclusion, the Health Occupation Student Association is returning to St. Charles High, slowly but surely, and will be beginning its return by meeting in AIP on Fridays. HOSA's goal is to help PLTW students understand the concepts of the biomedical field better, and to allow them to directly learn from and interact with health professionals. 
"It would help everybody to brainstorm and it would open up a lot more possibilities, there's some things we can't do, there's some careers that we don't have connections to that we would be able to branch out and be able to see and learn abou," Ingram said.