Danceline and the Farmington dance invitational
Danceline is pretty cool!
On Jan. 29 Danceline was given a very exciting opportunity.
Elisa Hasper, Ellie Gibbs, Ginessa Fields, Lillian Iverson, Lucinda Wulff, Marissa Sipe, Yzabella Schultze, and Piper Ruebling were participants in the Farmington dance invitational with their competition team with their coach Tara Higgins.
Despite competitions being a stressful time, these girls didn't let the stress get to them.
"I was kinda sad because we were half a point away from getting second, but I'm still happy with what we placed," sophomore Ellie Gibbs said. "That was our only competition of the season so I'm proud of us."
The all-day competition was nerve wracking for the girls.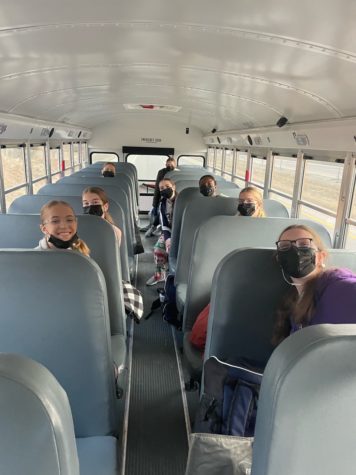 "(At competitions) there's people judging you so every detail and every small mistake matters," junior Marissa Sipe said. "If it was an audience it'd be like fun whatever, but there are people detail-ly watching you. People who know dance so they'll know if something is wrong and so everything matters when you dance." 
After a long bus ride the team were ready to serve their A-game in front of the judges.
Each participant brought their own skills and specialties to the invitational.
"I think my greatest strength is my kicks or back arches," freshman Ginessa Fields said.
SCHS Danceline proved their dedication to their sport and successfully won third place.