Boys Basketball: The Bittersweet Ending
Leaders brought together for this long, hard-working season
With a 16-9 record, the boys basketball team is had a very successful season. They are 7-1 in Conference, putting them at the very top. With their season coming to an end, the boys are persevered through the season, playing basketball six days a week. Elijah Leech, a junior playing varsity, is one of the starting five players for High. Leech grew up in Memphis, Tennessee, and began playing basketball at the small age of five years old.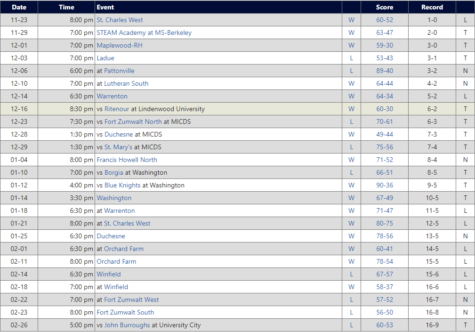 "That's when I moved here and got proper coaching," Leech said. He stated that he moved to Saint Charles, Missouri in eighth grade. Eighth grade is when he started playing at a high level of intensity and skill. Leech says Saint Charles treats him and his family well.
  "People are more civil here, I like it better and this is where I want to stay," Leech said. Leech led the team in number of points scored this season with 265 points, he averaged 11 points per game. He is a forward post and loves his teammates like brothers.
"We do a lot of team stuff together. We go workout, we go shoot, we go eat sometimes. It's a real family," Leech said. Leech and his team have a lot of good qualities, ranging from attitude to skills.
"Our best quality is our defense and the way we are a family," Leech said. Leech has faith in his brothers and the integrity they put into the sport they love.
"Hard work pays off, and the team that works the hardest will get the win," Leech said. Blake Wiggs, a junior starter for varsity, began playing to follow in his two older brother's footsteps.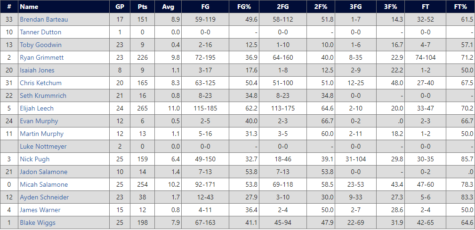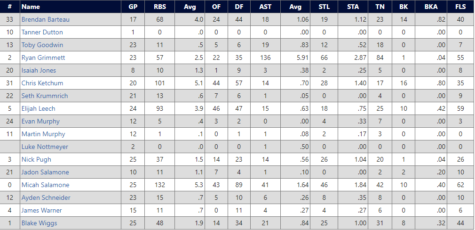 "Seeing my other brothers play when I was younger, I just started playing," Wiggs said. Basketball has always revolved around his home.
"I enjoy it a lot and all my family has played basketball since I was young," Wiggs said. Wiggs started playing basketball in second grade for a church league and went to a feeder team in fourth grade. Wiggs and his teammates keep the energy in the gym high, and their grit and scrappiness was definitely worth the $3 student tickets.
"Really anyone can score and our defense is pretty intense. We full court press most of the game, so running up and down and putting pressure on the other team's ball handlers," Wiggs said. Wiggs is a shooting guard, along with Micah Salamone, one of the seniors on the basketball team.
"I'm going to miss the seniors for real. We just have been playing basketball together before high school. We have just created such a strong bond over the last three years, especially for me," Wiggs said. Wiggs and his buddies all have one thing in common; basketball helps them and they all find it enjoyable to be around the court and each other.
"I like the way the game can be played, there's certain things that you can do that you know can affect the game in different ways," Wiggs said. Brenden Barteau, senior varsity basketball starter, likes how basketball clears his head.
"It's always been an outlet for me, it always has helped me get over what I am dealing with," Barteau said. Barteau started playing basketball in second grade for Saint Charles Borromeo's third grade team. He speaks out about how his teammates help him show up every day too.
"It got me out of a lot of bad situations and bad decisions and it helped me choose the right friends… One thing I'll probably miss the most is just having my guys around all the time, just seeing them everyday and accomplishing something with them. It just feels great to be around them and do good things," Barteau said. Barteau plays forward post and averaged 4 rebounds and 8.9 points a game. He enjoyed this season playing high school ball the most because of his team's good qualities and loyalty.
"Our compatibility and we're just a unit. We always have each other's back, and we always go hard and hold each other accountable," Barteau said. Barteau says losses help them because of how much they put into their team and how much they care.
"We take it to heart..," Barteau said. Ryan Grimmett, Senior basketball starter, plays point guard, holding 136 assists and 66 steals this season. Grimmett got a shout out from STL high school sports for being an athlete of the week, the week of Jan. 27. He felt like it was a really nice accomplishment he had acquired.
"It made me feel good just because there are thousands of players just in the St. Louis area, so to be considered one of the players of the week going against kids that go to the biggest private schools, it was an honor I feel like," Grimmett said. He started playing basketball in second grade.
"I jumped straight into community ball, I just grew up playing that. I mean I played before that because I got older brothers that played so I was kind of like molded into the game," Grimmett said. Like Wiggs, Grimmett also grew up watching his brothers play.
"I just always found it enjoyable to play, my brothers played and I grew up watching them play so it was kind of just like pretty much got handed down to me," Grimmett said. Grimmett finds motivation from his teammates showing up everyday to work hard.
"We are really close as a team. Before the season we weren't that close, but as the season has come along, we all have become each other's closest friends. I feel like we all have fun and know what each other can do on the court," Grimmett said. These athletes really rely on each other to help their success grow, and Grimmett will miss his friends now that their season is over.
"Just being around them everyday, going to practice, just the little things. The stuff that you don't think about while doing it, like going through layup lines, the hype before and after games, the little stuff," Grimmett said. Salamone, senior varsity basketball starter, played shooting guard; he had 254 points and 132 rebounds throughout the season, as well as a 43.4 three throw percentage. Basketball has helped him in many ways throughout life.
"Basketball has made me more responsible, definitely. It kind of also helped me figure out a schedule of my life, like a good routine, also with setting goals for stuff I want to accomplish, being patient, I think it has helped me in a variety of ways," Salamone said. Salamone likes his teammates and the unbreakable bond they all have. He feels responsible for a lot of things on his team, so he always tried to give all of his effort.
"The thought that it's my last season and it's the last time I get to play with all these guys keeps me motivated to keep putting in the work and it will pay off," Salamone said. He started playing in seventh grade, and hasn't let off the gas since. This has been a great team for Salamone to have and finish his last year playing with. 
"I like the chemistry we have, kind of feels like a second family, we all get along really well, we have good shooters, and everyone can kind of do their own thing when they get the ball," Salamone said. Salamone could think of one word that described his team and their ethic.
"Dedication," Salamone said.