Victory Across Marching Band
The marching band wins competitions throughout the season
The marching band season has recently come to an end, and the students have achieved a lot throughout the few months they had. They have gone to multiple competitions, won awards, entertained people at football games, and provided music for the pep rally at Homecoming. Junior Katie Marvin, the solo trombone player, enjoyed the show they performed this season.
"I really like the music and we're doing all of these little dances in it, and it's very jazzy," Marvin said.
The band's name for the show this season is 'Jazzed' and they have rehearsed three songs to fit that theme. These songs are Sir Duke, Harlem Nocturne, and Birdland. Band director Sean Bippen enjoys the jazz theme he picked for the season.
"Well, I like the jazz theme, jazz has always been a love of mine, and something that I've been very into. So this is actually the first jazz type marching band show I've ever done so that is very exciting for me," Bippen said.
The band has gone to multiple competitions over the course of the season, and returned with two third place wins for the school. Bippen is proud of the Band of Pirates this year and has loved working with the students throughout the season. 
"They're working hard, they're a fun group of kiddos, and it's coming to a close here soon which I think everyone is ready for it to be over, it's a long season, but yeah it's a really good band this year," Bippen stated.
Along with the instruments, there is an impressive color guard that marches with the rest. Junior Layla Pfaff is a color guard member, and loves being a part of the marching band even without playing an instrument.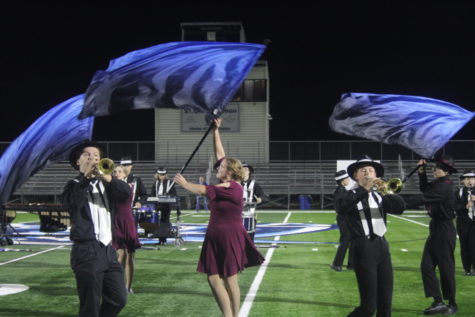 "I like being able to catch the flag and actually impress people, and I like being around all my friends," Pfaff said.
Marvin also enjoys being able to play the trombone with the rest of the band, but her favorite part of the season is the competitions.
"I really like the competitions and being able to hang out with a bunch of unique people," Marvin said. "Band kids are the best kids."
Bippen isn't just proud of the band's work this season, he's also proud of the support that the band has been given from the students during their performances. It's his favorite part of the season.
"I'll be honest, it has nothing to do with trophies, it has nothing to do with scores. I've really been proud of our student section this year at home football games and think they've been really supportive of the band. I think that when you have an enthusiastic home crowd it's better than any trophy you could ever win, and to hear them cheering the band on and supporting them has been my highlight of the season," Bippen said.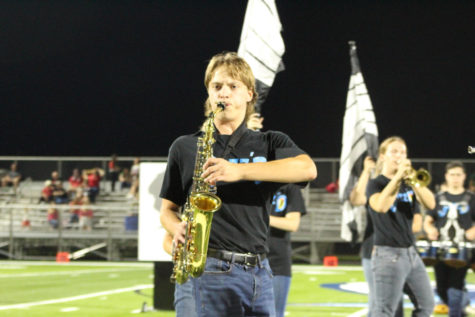 The season has officially come to a close and Bippen is proud of the hard work his band has put in. 
"You're never guaranteed that your name is gonna be called, so anytime you hear it called I'm proud of the kids. I let them know that trophies are just a symbol of their hard work, and it's just somebody else other than me and the staff recognizing them and letting them know that yes, your hard work has paid off," Bippen said.