Serving up a Win
The St.Charles High tennis team has been very successful this season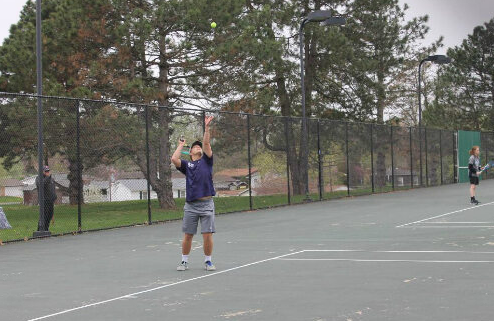 Many athletes who compete in spring sports have had to adjust to playing on a team again. After COVID took away spring sports in 2020, coming back has been challenging for some teams. However for the St.Charles High boys tennis team  that was not the case. The team has had a very impressive season. 
Jonathan Flaxbart, the Varsity Boys tennis coach, attributes a lot of this season's success to teamwork. 
"I feel like a lot of the boys are stepping up,so on any given match if somebody loses, somebody else is stepping up and winning their match to contribute to a team victory" Flaxbart said, 'it's not the same people everyday who are winning, but enough of them are going out and winning that as a team we've had quite a bit of success this season " 
Seniors Jonny Hundly and Nick Quay attribute their personal success to different aspects. 
"I didn't tie my shoes a lot, my shoes are always untied," Hundley said.
"
I didn't tie my shoes a lot, my shoes are always untied."
— Jonny Hundley
Quay had a different approach."I've practiced my serves a lot more and I've taken it a lot more seriously since it's my last year," he said.   
There have been several great feats this season. 
"We played in a doubles tournament last Friday with St. Charles West and Zumwalt North and all three teams tied for first place that was a feat in and of itself," Flaxbart exclaimed. 
The team is headed to districts as the number one seed.
"Our district is four teams: us, St.charles West, Duchesne and Lutheran we beat west and Duchesne 6-3 not in a cocky way or anything we're going to beat Lutheran today because they only have three boys on their team," Flaxbart said. "So even if all three of theirs win we'll still win the match so we'll get the number one  seed for districts," 
But before districts there are the GAC's which are coming up this Thursday and Friday. 
"I really want to  win and bring home some medal," said Quay.