Q&A: Rosario Murillo and Her Full Ride to Notre Dame 
Q: What were your dreams of the future when you were young?
     A: "When I was younger I knew I wanted to be somebody and do something. I knew that I wanted to go to college and graduate with a successful career. That was because my dad never really had an education and everyday when he would get home from working outside all day he would encourage me to study and get a good education so that I wouldn't have to work so laboriously like he has to. That drove me to want to focus on my studies since elementary school so that I could make him proud of what I could accomplish."
Q: Was Notre Dame always the goal? Or did you have other universities in mind?
     A: "For the longest time I was stuck on the University of Southern California. I loved the idea of going all the way to California to live for four years, but then my mom actually introduced me to the University of Notre Dame. She didn't want me to go far so she was trying to show me schools much closer to Missouri when she sent me information on Notre Dame. I looked into it and I gradually started falling in love with the school especially since it is a Catholic school, it is well known, and it was closer to home. At that point I felt like Notre Dame was a better fit for me than USC."
Q: What was your reaction, as well as your families when you found out about your full ride?
     A: "I honestly had no faith in myself. I really thought that I wasn't going to get the scholarship because it was a full ride for a very selective university. My chances were slim, the 17% acceptance rate scared me. I was honestly ready for disappointment when I opened the email but I was genuinely shocked. I opened the email by myself in my room because I didn't want my family to see my disappointment if I had opened it and it was a rejection letter. I also recorded myself since it was my first college application experience and I wanted to remember it and send it to my family and friends if it was an acceptance letter. It was honestly a blur, I remember opening the email and before I could even read what it said there was a bunch of falling confetti displayed on the screen so I knew at that moment I had gotten it. I immediately started crying and called my sister who was in the other room to come see the email and she was just as surprised as me. I then called my mom, my dad, and other family members and friends to tell them the good news. I remember I could barely talk on the phone because I was crying so much. They were all very happy for me. The fact that it was a full ride made me feel like it was too good to be true. I couldn't believe what had just happened."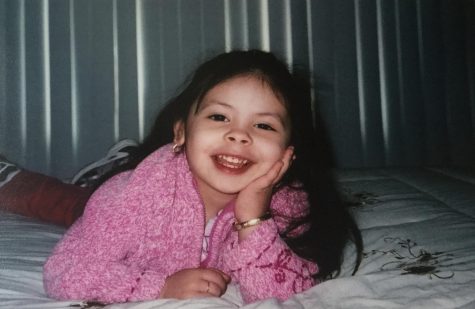 Q: What do you plan on studying when you attend the university?
     A: "I plan to major in biochemistry so that I can then go into Forensic Science and become a forensic science technician. I want to go into the more artistic aspect of forensics as well and possibly do a program on forensic art so that I can expand my career from not only the scientific investigating part of it but also be a forensic artist."
Q: What are you most looking forward to when you get there? 
     A: "I am most looking forward to the whole new experience. The new people, living in a dorm, the community, the Notre Dame football! I am so excited for all the new experiences that I am going to encounter while there. They have already made me feel so welcomed before I have even stepped foot on campus. They have group chats, virtual meetings, and activities that have allowed me to meet some of my fellow classmates. I can already tell that they are going to be my home away from home. "