Unexpected Challenges
Freshman this year are starting high school in the midst of a global pandemic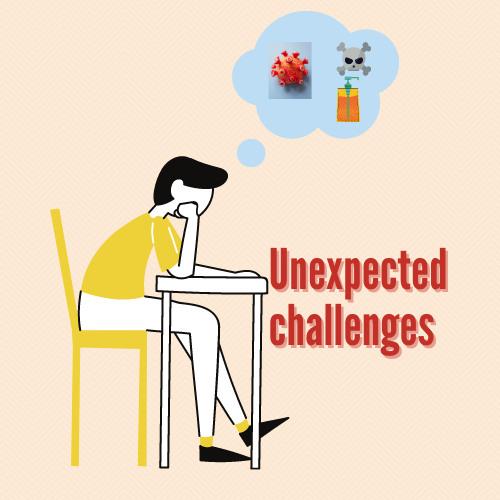 There are many expectations students have when starting high school. Freshman year is the start of a new chapter. However for teenagers across America starting high school in 2020 the beginning of this chapter looks very different. Due to COVID-19 many schools have switched to virtual learning. St. Charles High has taken a mixed approach with some students online and some in person. Those students in person must wear a mask at all times and try to maintain CDC social distance protocols. Even with these precautions, they still run the risk of contracting COVID or being quarantined.  
For freshman Piper Ruebling her first year of high school was not quite what she expected. 
"
I expected my freshman year to be completely different. I thought of it to be like everyone else's that already had theirs. School activities, events, field trips, just stuff we can't do now because of COVID"
— Piper Ruebling
Despite the unusual beginning to high school Ruebling still makes the best of the situation. 
"I did not expect to be in person after summer ended. Even though I thought we weren't going to be able to do some stuff, we can still do others. I joined the Danceline, and was casted in the play, both things I really didn't think were going to happen." 
Freshman Rocco Barbier has also felt some of the effects of the pandemic, something he feels he has missed out on was, "being able to actually enjoy some of the after school activities." 
 Freshman Sydney Woods has an interesting perspective as she has been both virtual and in person.
"It's been okay, it's been more challenging," Woods said.  "I started out on virtual and it wasn't working for me, and I came in and am working harder now."
Woods explains how she feels she has missed out on certain typical high school events. 
"Definitely homecoming I was really sad about that. I feel like everybody in high school should be able to experience that, and I didn't get to my freshman year." 
Woods has had to adjust to the rules of in person 
"You have to be a lot more cautious, you can't really congregate as much as you want too and it gets hot in the mask…the mask is annoying sometimes."