Upshot Coffee Brake Shop Review
New coffee shop located near Saint Charles High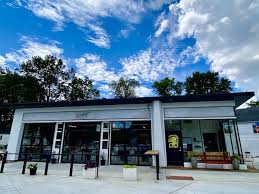 Upshot Coffee Brake Shop is located at 816 N Kingshighway St, which is very close to St. Charles High.  It is a very convenient location for doing homework after school or just getting a cup of coffee.  This is the second location of Upshot, the other is located in Cottleville. When I went to Upshot I tried to try a few different things on the menu to get an idea of what their menu items are like. They have vegan options as well making the options more broad for food.
When I went to Upshot, I tried the blueberry muffin and the chocolate chip cookie. They had a few meal options as well. The food was not what I was expecting, but it was not bad. It would be better for the menu to have pictures of the food so you know exactly what you are buying. 
When I went, the water machine they use to make the hot drinks was down, which is not their fault, but still an inconvenience. So instead I got a cold drink and I also tried two of their pressed juices. The coffee drink was not very good, almost as though it was watered down. I got the iced Chai Latte and it was still very creamy, but it did not taste that way.  The pressed juices were hit or miss. One was very good and the other not so much. I tried the Pink Lemonade and the Ruby pressed juices. Overall I would recommend to look over the menu and see if this is your cup of tea before you go. 
The menu options were more broad for meals than desserts. They had a lot of different kinds of pressed juices. The coffee choices when I went were not super big, because the water for hot coffee was not working, but normally their menu for drinks is bigger. I thought a lot of the menu was very overpriced. For the stuff I got, it was nearly $30. The food and the desserts I think were personally way too expensive. For the price you pay it would be about the same as Starbucks. I did not think the quality matched the price. The pressed juices were priced about what I would expect them to be, but still expensive. 
The outside and inside of Upshot are very cute and aesthetically pleasing. They did a great job of turning the old brake shop into a coffee shop. The people who worked there were very nice and had great customer service. It's a great place to do homework and get things done.