Maddie Jackson's Stellar Sophomore Season
Although her sophomore softball season was cut short due to potential COVID-19 exposure, Maddie Jackson made sure to make an impression with the time she was given while on the mound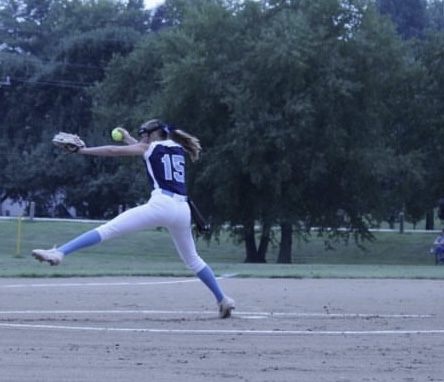 Sports will forever be known as "a team effort." However, teams are built by individuals, and each individual has to perform to make the team as a whole great. Sophomore Maddie Jackson did that in this year's softball season. While pitching for the St. Charles High School Pirates softball team, Jackson was a standout player in practically every game she pitched. Stats provided by stltoday.com show that in the St. Louis area among high schools, Jackson is 4th in strikeout to walk ratio, 5th in strikeout leaders, 8th in strikeout average, 16th in WHIP and 25th in ERA. Although she recognizes her performance this year, Jackson is focused on improving her game next season, rather than live in the success she obtained in the 2020 season.
"Confidence plays a big role in my success," Jackson said. "I try not to doubt myself when I step on the mound, because this will only lead me to failure. My accomplishments this season should set me up for a better season next year as I push myself to build upon this and take the next step."
Coach Dave Jones has been coaching softball for 13 years, and has seen many pitchers come and go. However, he believes that Maddie Jackson might be one of the best pitchers he's ever coached. 
"As a sophomore Maddie is probably right there, top one or two pitchers I've had in terms of her confidence and pitches she can throw, the way she can work a count to her favor," Jones said. "She's ahead of anybody with power numbers in terms of strikeouts, she's better than anybody that I've had as a pitcher."
The word teammate has the word team in it, and that's just what the 2020 Pirates softball team was: a team. Teammates alongside Jackson have been in awe of the performances that Jackson has brought to the mound as she represents St. Charles High. Starting first baseman and senior Izzy Schiffer speaks for herself and her teammates when she says just how exciting it's been to watch her sophomore teammate and friend dominate the opponents in the batter's box. 
"She's always smiling when she pitches and gets so many strikeouts," Schiffer said. "It's just so fun to watch her because you can tell she's having a lot of fun on the mound."
Maddie Jackson and the softball team fought their way through this season, however they ended the season shorter than they wanted, with a 10-0 districts loss to Warrensburg.