Uncharted Territory
The City of St. Charles looks to create a new development on the bank of the Missouri River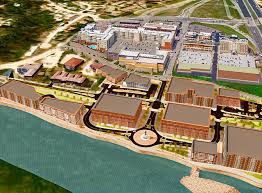 The Riverpointe project is a plan to expand upon the already existing Streets of St. Charles shopping center. According to the Riverpointe project website the project will consist of three phases. The first phase will focus on creating a water quality basin, and reconstructing Lombard St. and Old South River Road. From there the development will begin, creating new opportunities for entertainment and retail facilities. The main goal of the project is to "create a center for economic development." The project is said to create 4,000 jobs and $1.5 billion in growth.
       Many people have come forward in support of the project including Dr. Jason Sefrit, the St. Charles School District superintendent. Sefrit feels that the project could benefit the school district. 
"Any development that attracts more people to the area is good for the City and District," Sefrit said. 
     Many people, such as the "Stop Riverpointe" Facebook group, however have been concerned about the environmental effects a new development right on the river may have. 
However Sefrit disagrees with this. 
"According to the City Administration and developers, the project will not affect the river upstream or downstream," Sefrit said. "It's a no-rise development. There will also be a water quality basin (water feature) that's designed to catch floodwater before it reaches the riverfront and filter it. That is going to give that water time for pollutants to settle out of the water and basically be filtered before it goes into the river.  Bangert Island is part of a land grant that can never be built upon, the project will not touch the island."
The project has also been known as the Bangart Island Development, though the island will not actually be built upon. County Executive Steve Ehlmann reassures that the island will not be developed. 
"I can guarantee you they are not going to do anything environmental involving the island itself," he said. 
Ehlmann even mentioned there may be some improvements on the island.
"We basically want to keep that as a park," Ehlmann said. "We may actually improve some of the amenities." 
Sefrit feels that the project will not have any serious downsides. 
"There is a lot of momentum in St. Charles for new development, which is a good thing. The downside would be if the project couldn't get (and be) successfully completed and utilized by the public."