New School Year, New Ways of Teaching
Teachers and students alike have been learning how to do both online and in-person learning
This year the district has a new ways of education: virtual and in-person teaching. Teachers and students have been dealing with both. The in-person students and the teachers wear masks to protect themselves while all the classes are socially distanced to make it safer for everyone. Most districts are doing this new form of teaching. History teacher William Hippe has been relearning how to teach from his classroom to both the online students and the students in his classes.
"It's a whole new way of teaching, it's completely different to anything I have ever done," Hippe said. 
Teaching is important to most teachers and that is no different for Hippe. He loves to conversate with the students in his class, but now it is hard to have deep conversations.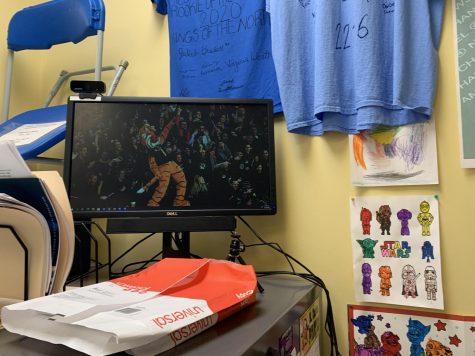 "It's really made discussions difficult, there have been a lot fewer questions asked. And I am not sure why, not a lot of inputs from the virtual students. I think they are just kind of taking in information, but not feeling the expectation to participate," Hippe said. 
If too many students or teachers get COVID-19, then the school might go fully online. Teachers will have to use Zoom or other forms of communication to teach all their classes.
"Going all virtual will be different and would have some more challenges," Hippe said. "I do enjoy being in the room with students. And not being able to do that, I would struggle more with all virtual situations."
Different classes in the school had to prepare differently. Abigail Birhanu teaches a variety of art classes.
"I had to prepare kits ahead of time, one of the biggest things I noticed last year was my kids didn't have supplies so here I am trying to plan lessons, and we are highly reliant on supplies for our subject," Birhanu said. 
Art materials are one of the biggest parts for creating a unique art piece. 
"You could do a bunch of drawings with pencils, but it wouldn't be as exciting and expressive so I was sad they didn't have glue, some of them didn't even have colored pencils or paint because people don't traditionally have those things at home unless they are making art at home," Birhanu said. "And often what we do is class work so most of the materials were in the space, so it took us Keri Sampson and Sra. Reese spent a lot of time putting kits together so to get the most out of the money we had to order in bulks like colored pencils, we had to take it and organize it for everybody to consume." 
Some students dislike online learning, but there is also a lot that enjoy the at-home feel of the new form of learning.
"Online learning is really nice because I don't have to wear a mask, I can pretty much have whatever I want for lunch, and if I have some extra time between classes I can take a nap," senior Luke Hoffmann said. "My only problem with online learning is, I can't really see or talk to any of my friends." 
The days of the in-person students are pretty similar to last year when everything was normal. The online students' days are very different though.
"My days aren't too long because I go to Lewis and Clark in person for half of the day. If I do get bored I will usually open up Spotify, or if I finish everything but still have to be on Zoom I can just play a game on my computer or Xbox," Hoffmann said.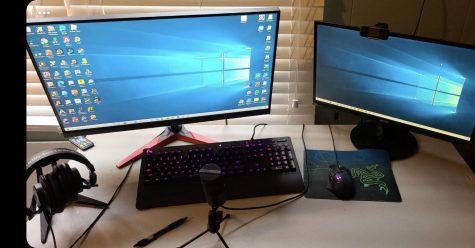 Lewis and Clark and CAPS are still going on this year. The programs have safety precautions to protect the students involved from COVID-19.
"They are taking precautions such as wearing masks and practicing social distancing. It's mostly the same as last year as far as the work we are doing," Hoffmann said. 
The staff has been working through connection issues and other tech problems. So far wearing masks and keeping classes socially distanced seems to be working pretty well. Teachers and students are working together both online and in-person to keep this boat afloat.