She Kills Monsters Comes To A Close
After original, state, and encore performances, cast and crew of SCHS production traveled to Lincoln, Nebraska over the summer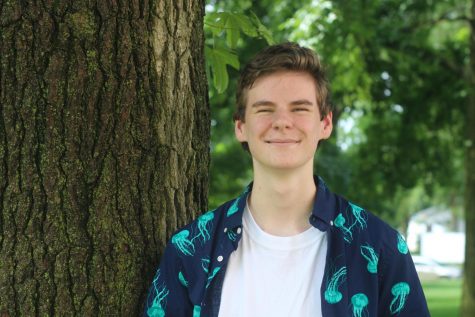 More stories from Patrick Benedict
Early during the production of the 2019 Spring Play, Courtney Denton, the director of She Kills Monsters, told the cast and crew on April Fools Day that they were not only going to the International Thespian Festival, but that the near-perfect scores they received from the judges established them as one of the highest-ranking performances in the U.S. Immediately, the crew made careful preparations for their trip to ITF in Lincoln, Nebraska.
"We had to create an entire list of props and costumes and set pieces," Stage Manager Lily McEwen said, "and on top of that we had to rehearse, we had the encore performance, we checked, double-checked, and triple-checked each prop and packed box. Somehow we still managed to lose things on the trip."
After the crew made a few minor costume changes, touched up a few major props, and formed a strategy for disassembling and transporting the set, they departed with a U-Haul and a senior's pick-up truck to Lincoln, where they were the first big performance in the Kimball Theater on Monday, June 24th.
"Performing was my favorite part," McEwen said. "Everything went so much smoother since we'd already gone through the process so many times. Even putting up the set was much easier."
And not only was the process of preparing the show smoother, but the audience's reaction was generally more favorable.
"There's always going to a big difference between the St. Charles audience and the Nationals audience," actor Legend Chapman said, "and that's simply because Nationals is a bunch of actors in a crowd. So performing for them felt homier and felt more like performing for a wide audience."
"It was much better than our encore performance," McEwen said, "The audience definitely had a great time."
Alongside their performance, the cast and crew were able to explore the University of Nebraska-Lincoln campus and attend different hotspots like the campus commons, the local bookstores, and Starbucks, which was the most popular place among the Nationals attendees. There were even two themed dances scheduled throughout the festival. Alongside that, they also had the opportunity to stay in a college dorm, and see the other featured shows. On display were the main stage shows like Noises Off, Xanadu, Brightstar, Bring It On, and Shakespeare In Love.
"Besides our show," Director Courtney Denton said, "I think Shakespeare in Love was the best."
"Brightstar," McEwen said, "was like watching a real Broadway show. They did amazingly well for a high school production."
 Then there were smaller 30-minute productions in a separate local theater, including The Laramie Project, Dog Sees God, and a mini version of She Kills Monsters.
"[She Kills Monsters] is a very combat-heavy show with a lot of character development throughout," Chapman said, "so trying to force in a smaller venue and a time constraint was probably a mistake."
Meanwhile, as the students enjoyed their stay, Denton was hard at work.
"I didn't get to see many of the shows," Denton said, "nor did I make it to many workshops since I was helping with college auditions, IE performances, and callbacks for said auditions."
However, besides the work, she enjoyed the entire experience thoroughly, calling it "fantastic", "epic", "mind-blowing", and "really freaking awesome." 
And so, after the festival was over, students threw away unneeded pieces of the set, packed up and drove back home, saying their final goodbyes to both the departing seniors who participated in the show as well as the show itself, as She Kills Monsters was officially wrapped up.