Skip Four Days of School for Free!*
*All A's, one absence and teacher permission required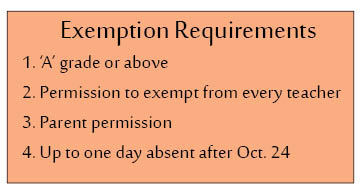 Every year there tends to be a change in finals exemption policies, particularly so after the rise Standards Based Grading. Students have been able to exempt a class' final exam provided they have an 'A' or above in the class and have permission from the teacher to do so. However, this year there has been an addition made to exempting finals: the potential to have an excused absence from the entire day, potentially every day of finals.
"What we're looking at doing," Principal Jeff Walker said,  "is adding an attendance incentive and letting students exempt out of all finals. We will allow you to if your teachers are willing to participate. If the teacher wants their kid to take the final, they do not have to participate."
This means that, unlike previous years, students are able to exempt the entirety of finals week provided they meet the requirements. No need to come to school at all.
However, there is a catch, and that is the requirements. Not only do previous restrictions apply, like the aforementioned requirement of teacher participation and others like\ having at least a 90 percent 'A' grade or above, no suspensions or ISS, and having only served up to two detentions, but students must also have a steep 96 percent attendance rate or better.
"By law the state wants us to have 90 percent of our kids with 90 percent attendance or better," Walker said. "If we do the math to skip every single final you would miss the last four days of school. You do that both semesters and, while it's excused, we still have to count you absent which counts towards your attendance."
Attendance will only count from Oct. 24 onward. Note this applies to second semester as well.
"Since we made this change so late in the year we started the 96 percent attendance on Oct. 24, the day we announced the change. For your second semester it's still from Oct. 24, to the end of second semester," Walker said.
Student reactions are mixed.
"I really like it," senior Paul Johnson said. "It's the same as last year, but with the added plus of being able to leave, which is cool because in finals you used to exempt and you'd just sit there quietly for two hours but now you can leave and do something more productive."
"It's very unnecessary to be able to skip school," senior Jacob Lund said, "but I'm probably just complaining because I don't qualify for it."
Exemption forms will be due a week before finals.