Cassidy and Salamone: Chemistry on the Court
The second and final appearance of doubles partners Liam Cassidy and Isiac Salamone at tennis sectionals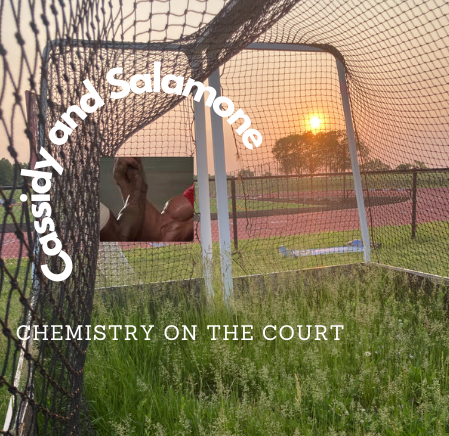 The consistent doubles partner shoe-ins for varsity tennis sectionals, seniors Liam Cassidy and Isiac Salamone, after premiering at sectionals last year, have made their fin de siecle performance on Saturday May 13 at Duchesne High School. Liam Cassidy accredits this to his improved forehand and Isiac Salamone his velocity and drive at the net with serves and overhead slams. But the individual merit of these players, as prominent as it is, it is just a cell when the vigor of the organism may take more precedence. But with the right conditions, the cell is recognized as the renegade that it is. This speaks to the chemistry of the players as it is no mere accident that they would have to be collaborative and be pretty good at it to make it to sectionals in the first place. They succeed and are likewise recognized. Despite the fact that tennis is a team sport there are individual matches that provide the resources for flourishing individual showcases of talent and relegate the broader team to a backburner to focus on players like Liam and Isiac. 
"
We were fully able to beat any team we faced, we just weren't able to perform on some days
— Liam Cassidy
"Tennis is interesting in that everyone goes out and plays their own match or two matches because a lot of times you'll play doubles and you'll play singles but it's the individual matches that lead to the team victories," tennis coach Jonathan Flaxbart said.
 Case in point with individuals when the SCHS team districts portion did not make it to sectionals whereas Liam and Isiac, true to form, rose to the occasion to make it to sectionals.
"[Individuals are] based on skill between you and your partner in doubles or you as a single player. So its you vs. really like anybody. For team districts your whole team has to win five games in a row," Isiac Salamone said.
The entirety of Districts took place over three days at Fort Zumwalt South and Sectionals took place at Duchesne.
"Districts was pretty good at first, we had a first round wipe out so we kind of just finished them off quickly. Then the second match we were about to lose. We were really close to losing that but we grabbed back onto it and caught back up so we won that match. The third match we kind of just lost but we got to sectionals with that so…" Liam Cassidy said.
Modest and tepid can be seen as strengths as long as you can trudge forward in tennis.
"It is a mental game, some people do play mental strategies," Salamone said.
 Tennis is indeed a mental game and there is always the desire to edge the other out. As it relates to an athlete's perception of how they performed, it can be the biggest mental roadblock in knowing you could perform better and Liam and Isiac have shared that burden given how long they've played together. Isiac and Liam have thus developed a sort of non-verbal communication reflected within their plays.
"Sometimes, we'll both push back and sometimes we've been playing with each other for so long, we've built kind of a chemistry. So we'll know that if I push the net then he'll come back and vice versa," Salamone said. 
Their neural connectivity in the mental game of tennis has increased their expectations levied unto themselves by themselves.
"We were fully able to beat any team we faced, we just weren't able to perform on some days," Cassidy said. 
Liam Cassidy relates underperformance to being underprepared which Isiac Salamone says that during games they have designated plays but usually, relying on their non-verbal communication and chemistry, they can just simply improvise.
"At the beginning of the season we kind of tried to start that but we didn't quite carry on throughout the season but using word play like 1 2 3 or 4 for different plays or random words," Salamone said.
Even then despite all of this there are still off days. 
"At sectionals we lost the first set of six and then at the next set we kind of caught back on 4-3 and then we lost 4-6.With sectionals we could've come more prepared but it was a good way to end it off," Cassidy said.