Freedom for a Day
The Class of 2023 heads out on the annual senior trip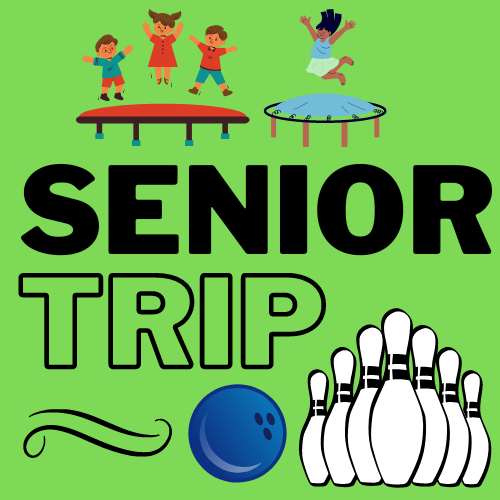 On May 12, the seniors went out to Rockin' Jump and Bowlero for their senior trip. The two places were voted on by the seniors, with Six Flags being a close second place. The group went to each place for two hours, and had the run of activities such as the trampolines and warp wall.
"I'd say walking around Rockin' Jump some kids complained about it, said it was for little kids, like 'we don't want to go there.' I think some of them wanted Six Flags, but walking around Rockin' Jump every kid was smiling, everyone was having a blast, with Bowlero some of them said it was just okay, but it seemed like they all really enjoyed Rockin' Jump," Senior class sponsor Patrick Gebhard said. 
While some kids didn't like the option of Rockin' Jump, some were relieved they weren't going to Six Flags again. 
"I mean yeah, I'm just kinda glad it's not Six Flags because you can go to Six Flags at any time and I wanted to do something different and fun, I was really hoping for some ziplining, but I guess jumping on trampolines is fun," senior Marissa Sipe said.
Even Gebhard got in on the fun, joining in the activities with the seniors.
 "I had fun at Rockin' Jump, I was doing the trampolines and warp wall and all that stuff, I really enjoyed that, and I enjoyed the bowling too," Gebhard said.
Sipe also enjoyed the free reign of Rockin' Jump.
"My favorite part was bouncing around, there were the silks that hang from the ceiling and I made a little cocoon and just hung there and it was nice," Sipe said. 
When the group headed off to Bowlero, they had competitions throughout the two hours to pass the time. 
"My favorite part was when we went bowling, we were doing a competition between all the girls and whoever won got a gift card, and I ended up getting the highest score and winning," Winner Emily Wagner said. "I got 169 points."