Swing for the Fences
The SCHS baseball team is back in action
Spring is in the air, the bats are swinging, and the baseball teams are back in their routine.
"The season has been a bit rocky at times, but overall better than last year. I feel that the overall mood of the team has greatly improved as compared to last year," Senior Caleb Mertz said. "The team energy on the bench is amazing and the team feels closer than last year."
Each year, the team sets goals and values that they want to accomplish and make sure they obtain through the season.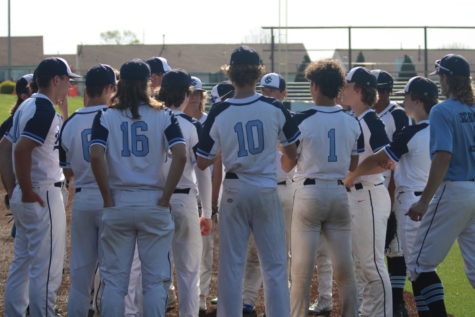 "The daily goal is to come out each game and practice meeting our four core values; which are Focus, Effort, Accountability, and Respect," Head Varsity Baseball Coach Brad Bichel said.
Setting these goals motivate the team to dream big and win to go on to bigger levels.
"The season goal is to win conference and then go into districts and play with a lot of confidence and play our best ball," Bichel said. "We have the ability to beat anyone, but we have to focus on doing the little things each day in order to make that happen."
The team has faced some adversity and challenges throughout their season.
"The struggle with our team so far is having one bad inning each game. We tend to either walk a bunch of guys or make a few defensive mistakes that lead to big run innings," Bichel said. "If we can clean up defensive miscues and throw strikes, we will play much better, cleaner baseball."
The way to overcome these struggles can be proven when the team works together and hits well.
"Our team strengths are our hitting and depth throughout the lineup. We have a lot of guys that can hit and feel confident throughout the lineup that our guys will hit," Bichel said. "We have a ton of guys that can start every game but with good depth, we are able to rotate guys more and keep everyone fresh."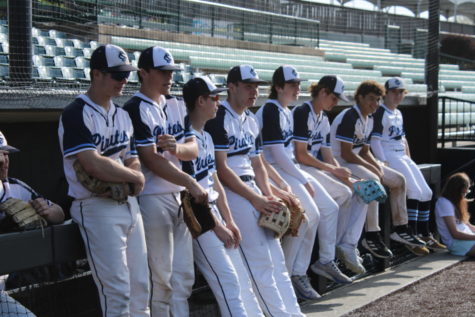 On the coaching side of the game, the coaches work hard to give their players the best advice and ways to improve their game.
"We have had some games where we have struggled defensively and have cost us some games, but our coaches have focused on the defensive aspects like fielding in our recent practices, and it has already started to pay off," Mertz said.
Overall, the players continue to work hard despite the struggles thrown in their way. The record standing at 7-14
"The goals of the team are to get better as a whole and as an individual," Freshman Hunter Broad said.