Solo and Ensemble
Individuals performing in front of judges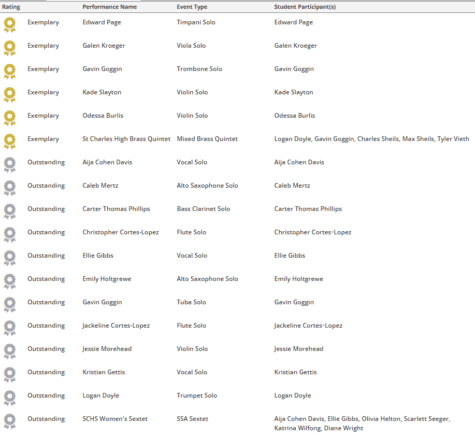 March 4 was the day of the Solo and Ensemble at Fort Zumwalt East. Two students from the band received ones which is the highest possible score you could get in the competition. Some kids from Choir and Orchestra performed and got scored as well and received their scores throughout the day. 
Senior Edward Page played the timpani which is a type of drum. He said it felt great to get feedback on his performance from the judges. 
"I was quite nervous when I got in the room and started setting up," Page said.
At the end of the day, Page got a one, which is also known as an Exemplary rating. That means that if the performer wanted to, they could go to state. Page will be going to state towards the end of April at Mizzou. Getting that score was thrilling for him, because he thought that he did a terrible job while playing his solo. 
"The judge liked it enough to let me continue into state," Page said.
Page is very proud of himself, but he is also thankful for his band director Ryan Blankenship and all of his classmates for being able to help him with his solo.
Senior Gavin Goggin was very nervous at first about his tuba solo because he was very tired that day and wasn't fully prepared for his performances. 
"It was very hard for me to play because I was playing all week," Goggin said. 
Goggin was very happy with the scores he received with the trombone solo and the brass quintet ensemble. He will be attending state for the trombone solo, but he is not sure about the brass quintet for the state just yet. 
Sophomore Jessie Morehead played the violin and she was nervous as well, while she was arriving for the competition. But after performing she thought that a lot of the stress was off her back. She also felt more at ease with herself. 
"My judge was nice. I'm proud of my Outstanding score since it was my first time going," Morehead said. 
"
"My judge was nice. I'm proud of my Outstanding score since it was my first time going."
— Jessie Morehead
As it was her first time, she did have a blast. She thought it was a cool experience.
Sophomore Diane Wolf who is a choir member was in a sextet with a few other members. She thought it was cool to perform in front of a judge and get scored on how they sang and she has never experienced that. 
"I would do it again," Wolf said. 
She felt proud of herself and her group for getting a two and nothing lower. Wolf is also glad that they didn't get anything lower because they had a lot of practice and stress to try to get a high score.