Getting Down to Business
New teacher and football coach Andrew Lawrence looks to bring energy to his business classes, as well as advance the knowledge of the business field to his students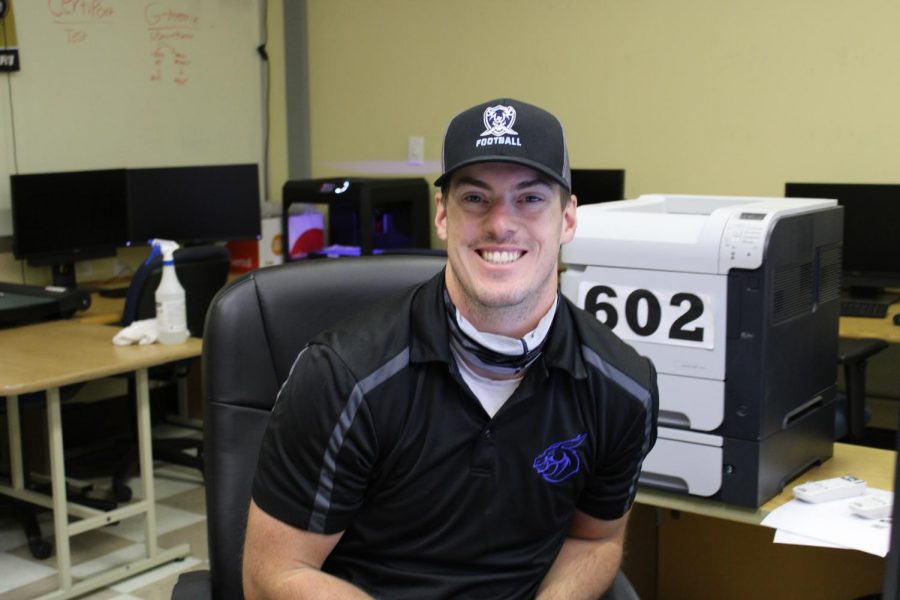 Born in Independence, Missouri, Andrew Lawrence grew up in sports. Engaging himself in a  variety of activities that include: soccer, baseball, roller hockey, basketball, track and football, which he played at Lindenwood University. However, he never really considered going into football professionally. 
"No, not really. I would have had to change positions. I mean there was a brief thought where if I could try to get on defense, maybe I would've had a shot," Lawrence said.
Lawrence collected a bachelor's degree in sports management at Lindenwood, as well as a master's degree in business administration, with an emphasis in human resources at Rockhurst University. He is also a wide receiver coach on the Pirates football team. He shared his coaching philosophy, which also stems from how he was raised. 
"I try to coach like how I parent my son, and how my dad raised me. A lot of energy, play hard, try to hold yourself accountable," Lawrence said. "I'm a big fan of making new mistakes."
Coach Lawrence chose St. Charles High as a result of the praise he had heard people give the area as well as the school. 
"I've heard great things about St. Charles and the two high schools. When I saw one of the two schools had a business job I jumped on it," Lawrence said. 
Excited for the future, Coach Lawrence is looking forward to meeting new students and bringing a fun environment to his business classes, while also attempting to bring some wins back to the St. Charles Pirates football team.