Fast-Acting Teen Saves Fellow Classmate
Emily Bodrow saves choking classmate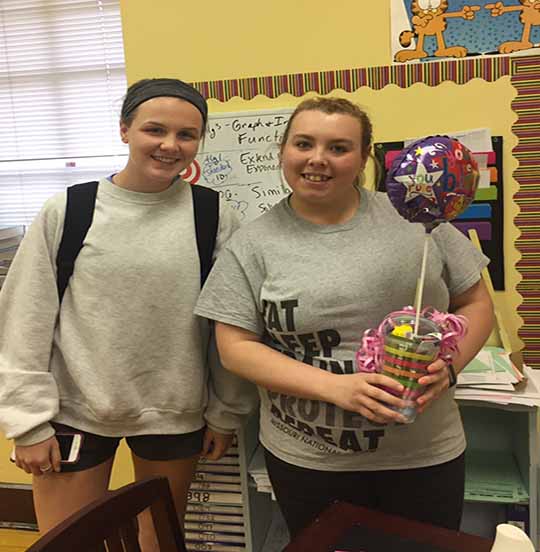 Hang on for a minute...we're trying to find some more stories you might like.
It was a normal day in Melissa Kohr's Algebra 3 Class. Kohr was teaching and her students were working hard taking notes. A constant cough could be heard from the back of the classroom, but no one took notice due to the numerous sick students that were in the room.
Panic quickly arose when the class realized that junior Anna Meyers started choking after eating a couple of Cheez-Its. Senior Emily Bodrow was in the front of the classroom when this was taking place, but instead of being consumed with fear she quickly ran back to Meyers and began to perform the heimlich maneuver. Bodrow successfully dislodged the object from Meyers' throat.
"Luckily it only took one time to get it out," Bodrow said.
Meyers returned to full health soon after the event was over.
Days went by and everything went back to normal, but Bodrow's actions going unnoticed really upset Kohr, so she set out to get her the recognition that she deserved. Not only did Kohr surprise Bodrow by recognizing her at the Winter Formal Assembly with flowers, but she made it possible for Bodrow to be recognized for her courageous actions at a district board meeting.
"She deserved to get everything because with her fast actions Anna [Meyers] was quickly saved, not only that but Emily is so kind and a joy to have in the class," Kohr said.
The love and giving back was not over yet. The Meyers family wanted to give something to Bodrow for all that she had done. One morning in the beginning of class, Meyers gave Bodrow a cup full of various things that ranged from gift cards to candy.
"I honestly am thankful that Emily was able to help me so I thought that I could at least give her this to show my appreciation," Meyers said.